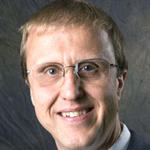 Mark Monroe Rich,
M.D., Ph.D
Department:
NeuroSci Cell Bio Physiology-SOM
Title:
Professor, Neuorscience Cell Biology & Physiology; Professor, Neurology
Address:
NEC Building 305, 3640 Colonel Glenn Hwy
Academics
Research statement:
My research focuses on two areas.
We study the cause of paralysis in patients with Critical Illness Myopathy. We have found that paralysis in this syndrome is due to abnormal behavior of skeletal muscle sodium channels. Our goal is to determine the cause of altered sodium channel behavior.
We study the mechanisms underlying activity-induced changes in synaptic strength. We use the neuromuscular junction as a model synapse in which it is possible to determine both the signals triggering changes in synaptic strength as well as the types of changes underlying alterations in synaptic strength.
Professional
Publications:
Kong L, Wang X, Choe DW, Polley M, Burnett BG, Bosch-Marcé M, Griffin JW, Rich MM, Sumner CJ. (2009) Impaired synaptic vesicle release and immaturity of neuromuscular junctions in spinal muscular atrophy mice.Journal of Neuroscience 29(3):842-51.
Novak KR, Nardelli P, Cope TC, Filatov G, Glass JD, Khan J, Rich MM. (2009) Inactivation of sodium channels underlies reversible neuropathy during critical illness in rats. Journal of Clinical Investigation. 119(5):1150-8.
Wilhelm JC, Rich MM, Wenner P. (2009) Compensatory changes in cellular excitability, not synaptic scaling, contribute to homeostatic recovery of embryonic network activity. Proceedings of the National Academy of Sciences. 106(16):6760-5.
Filatov, GN, Pinter MJ, Rich MM. (2009) The role of Ca2+ in membrane injury-induced changes in sodium current in rat skeletal muscle. American Journal of Physiology. 297(2):C352-9.
Wright MC, Potluri S, Wang X, Dentcheva E, Gautam D, Tessler A, Wess J, Rich MM, Son YJ. (2009) Distinct muscarinic acetylcholine receptor subtypes contribute to stability and growth, but not compensatory plasticity, of neuromuscular synapses. Journal of Neuroscience. 25;29(47): 14942-55.
Wang X, Pinter MJ, Rich MM. (2010) Ca2+ dependence of the binomial parameters p and n at the mouse neuromuscular junction. Journal of Neurophysiology. 103:659-666.
Foust KD, Wang X, McGovern VL, Braun L, Bevan AK, Haidet AM, Le TT, Morales PR, Rich MM, Burghes AH, Kaspar BK. (2010) Rescue of a Spinal Muscular Atrophy Mouse Model by Early Postnatal scAAV9-SMN Delivery. Nature Biotechnology. 28(3):271-4.
Gladman JT, Bebee TW, Edwards C, Wang X, Sahenk Z, Rich MM, and Chandler DS (2010) A humanized Smngene containing the SMN2 nucleotide alteration in exon 7 mimics SMN2 splicing and the SMA disease phenotype. Human Molecular Genetics. 19(21):4239-52.
Wang X, Wang Q, Engisch KL, Rich MM (2010) Activity-dependent regulation of the binomial parameters p and n at the mouse neuromuscular junction in vivo. Journal of Neurophysiology. 104: 2352-2358.
Wang X, Wang Q, Yang S, Bucan M, Rich MM, Engisch KL, (2011) Impaired activity-dependent plasticity of quantal amplitude at the neuromuscular junction of Rab3A deletion and Rab3A Earlybird mutant mice. Journal of Neuroscience. 31(10):3580-8.
Kraner SD, Wang Q, Novak KR, Cheng D, Cool DR, Peng J, Rich MM. (2011) Upregulation of the CaV 1.1-ryanodine receptor complex in a rat model of critical illness myopathy. Am J Physiol Regul Integr Comp Physiol.300(6):R1384-91.
Bullinger KL, Nardelli P, Wang Q, Rich MM and Cope TC, (2011) Oxaliplatin Neurotoxicity of Sensory Transduction in Rat Proprioceptors. Journal of Neurophysiology. 106(2):704-9.
Le TT, McGovern VL, Alwine IE, Wang X, Massoni-Laporte A, Rich MM, Burghes AH. (2011) Temporal requirement for high SMN expression in SMA mice. Human and Molecular Genetics 20(18):3578-91.
Martinez TL, Kong L, Wang X, Osborne MA, Crowder ME, Van Meerbeke JP, Xu X, Davis C, Wooley J, Goldhamer DJ, Lutz CM, Rich MM, Sumner CJ (2012) Survival Motor Neuron Protein in Motor Neurons Determines Synaptic Integrity in Spinal Muscular Atrophy. Journal of Neuroscience 20;32(25):8703-8715.
Kraner SD, Novak KR, Wang Q, Peng J, Rich MM. (2012) Altered sodium channel-protein associations in critical illness myopathy. Skeletal Muscle. Aug 30;2(1):17.
Is this you?
Log in
to update your profile.