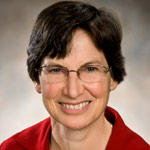 Mary T. White,
PhD
Department:
Population and Public Health Sci
Title:
Professor, Population & Public Health; Director, Medical Humanities
Address:
Biological Sciences 251C, 3640 Colonel Glenn Hwy, Dayton, OH 45435-0001
Teaching and Research Interests
Dr. White teaches medical ethics and humanities, public health ethics and global health at the Boonshoft School of Medicine. Her research interests include ethical issues in genetic testing and counseling, research ethics, global health ethics, end-of-life care and decision-making. Her global health experience includes a sabbatical at Mbarara University of Science and Technology in Uganda, developing a partnership between Wright State University and the University of Gondar in Ethiopia and ongoing involvement with the Kossoye Development Project in Ethiopia. Dr. White joined the faculty at the Boonshoft School of Medicine in 1995.
Select Publications
White, MT and Evert, JE (in press) Developing Ethical Awareness in Global Health: Four Cases for Medical Educators. Developing World Bioethics.
White MT, Borges, NJ, Geiger, SB (2011) Perceptions of Factors Contributing to Professional Identity Development and Specialty Choice: A Survey of Third and Fourth-Year Medical Students. Annals of Behavioral Science and Medical Education. 17(1):18-23.
White, MT (2009) Making Sense of Genetic Uncertainty: The Role of Religion and Spirituality. American Journal of Medical Genetics Part C Seminars in Medical Genetics 151C: 68-76.
White MT (2007) Uncertainty and Moral Judgment: The Limits of Reason in Genetic Decision-Making. Journal of Clinical Ethics 18(2):148-155.
White MT (2007) A Right to Benefit from International Research: A New Approach to Capacity Building. Accountability in Research: Policies and Quality Assurance 14:73-92.
White MT, Cauley KL (2006) A Caution against Medical Student Tourism. Virtual Mentor. 8(12):851-854.
White MT (2006) Religious and Spiritual Concerns in Genetic Testing and Decision-Making: An Introduction for Pastoral and Genetic Counselors. Journal of Clinical Ethics 17(2):158-167.
White MT (2006) Diagnosing PVS and Minimally Conscious State: The Role of Tacit Knowledge and Intuition. Journal of Clinical Ethics 17(1):62-71.
White, MT, Gamm, J (2002) Informed Consent for Research on Stored Blood and Tissue Samples: A Survey of Institutional Review Board Practices. Accountability in Research: Policies and Quality Assurance 9:1-16.
Book Chapters
Barnard, D., Thuy Bui, T., Chase, J., Jones, E., Loeliger, S., Velji, A., and White, M.T. (2011) Ethical Issues in Global Health Education, in Evert, J. and Chase, J, Eds. Global Health Training in Graduate Medical Education: A Guidebook, 2nd Edition. Bloomington: iUniverse Inc.
White, MT (2003) "The Many Facets of Genetic Testing," in A Christian Response to the New Genetics. D.H. Smith and C.B. Cohen (Eds.) Rowman and Littlefield.
Education History:
Ph.D., Institute for Medical Humanities, University of Texas Medical Branch, 1995
M.Div., Harvard Divinity School, 1987
Ed.D., Harvard Graduate School of Education, 1987
B.A., Cum Laude Biology, Middlebury College, 1978
Is this you?
Log in
to update your profile.