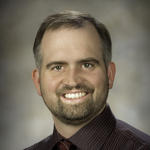 Michael P. Markey,
PhD
Department:
Biochemistry/Molecular Biology-SOM
Title:
Research Associate Professor, Biochemistry & Molecular Biology; Director, Center for Genomics Research
Address:
Diggs Laboratory 048, 3640 Colonel Glenn Hwy., Dayton, OH 45435-0001
Education History:
Doctoral: University of Cincinnati (Erik S. Knudsen)
Postdoctoral: Wood Hudson Cancer Research Laboratory (Taiping Chen)
Postdoctoral: Wright State University (Steven J. Berberich)
Academics
Research statement:
As Director of the Center for Genomics Research (CGR), I facilitate the projects of other researchers at WSU as well as external investigators who wish to collaborate or contract with the CGR. These projects have included topics in neuroscience, toxicology, and molecular biology. Current projects include comparative genomic hybridization to characterize genomic changes in melanoma samples, gene expression changes in retinal eqithelium following antioxidant treatments, and single-cell quantification of gene expression in neurons. Please contact CGR if you are interested in collaborative work involving any topics in genomics.
Professional
Publications:
Potluri, K, Mahas, A, Kent, M, Naik, S, Markey, M. "Genomic DNA Extraction Methods Using FFPE Tissue". In press at Analytical Biochemistry Methods, May, 2015

Wong P, Ziesel A, , Markey MP, Rapp CM, Darrow RM, Organisciak DT. "Enhancing AREDS efficacy in a rat model of retinal degeneration". Manuscript in preparation, May, 2015.

Mahas, A, Potluri, K, Kent, M, Naik, S, Markey, M. "Copy number variation distinguishes melanoma from benign melanocytic lesions". Manuscript in preparation, May, 2015.

Morgan MS, Arlian LG, Markey MP. "Sarcoptes scabiei mites modulate gene expression in human skin equivalents".  PLoS One. 2013 Aug 5;8(8):e71143.
Mandke P, Bates B, Wyatt N, Fraser J, Berberich SJ, and Markey MP "MicroRNA-34a Modulates MDM4   Expression via a Target Site in the Open Reading Frame". PLoS One. 2012;7(8):e42034.
Sharma, A, Markey, M, Torres-Muñoz, K, Varia, S, Kadakia, M, Bubulya, A, and Bubulya, PA. "Son Maintains Accurate Splicing for a Subset of Human Pre-mRNAs", J Cell Sci. 2011 Dec 15;124(Pt 24):4286-98. Epub 2011 Dec 22.
Markey, MP. "Regulation of MDM4".  Frontiers in Bioscience 16, 1144-1156, January 1, 2011
Schaeper JP, Chen T, Deddens JA, Colligan BM, Markey MP, Jackson CR, Wang KS, Shields RJ, Lucas D, Pemberton JO, Douglass LE, Graff JR, and Carter JH. "The Int7G24A germline variant of the TGFβR1 gene is associated with human ovarian cancer incidence, progression, and surviva.l" Submitted to Clinical Cancer Research, January 2010.
Heminger H, Markey M, Mpagi M and Berberich SJ. "Alterations in gene expression and sensitivity to genotoxic stress following HdmX knockdown in human tumor cells harboring wild-type p53." Aging. 2009 Jan 7;1(1):89-108.
Markey, M and Berberich, S. "HdmX Transcripts are Reduced Following Genotoxic Stress." Oncogene, 2008 Nov 27;27(52):6657-66.
Markey, MP, Bergseid J, Bosco EE, Stengel K, Xu H, Mayhew CN, Schwemberger SJ, Braden WA, Jiang Y, Babcock GF, Jegga AG, Aronow BJ, Reed MF, Wang JY, Knudsen ES. "Loss of the retinoblastoma tumor suppressor: differential action on transcriptional programs related to cell cycle control and immune function."Oncogene (2007) 26, 6307-6318.
Chen, T., Jackson, C., Link, A., Markey, M., et al. "Int7G24A variant of transforming growth factor-beta receptor type I is associated with invasive breast cancer." Clinical Cancer Research. 2006 Jan 15;12(2):392-7.
Markey, M., et al. "Loss of the Retinoblastoma Tumor Suppressor: Differential Action on Transcriptional Programs Related to Cell Cycle Control and Immune Function." Submitted to Oncogene, December 2005.
Markey, M., et al. "Geminin is Targeted for Repression by the RB Pathway Through Intragenic E2F Sites." J Biol Chem. 2004 Jul 9;279(28):29255-62.
Angus, S., Mayhew, C., Solomon, D., Braden, W., Markey, M. et. al. "RB Reversibly Inhibits DNA Replication by Two Temporally Distinct Mechanisms." Mol Cell Biol. 2004 Jun;24(12):5404-20.
Markey, M. et al. "Unbiased Analysis of RB-Mediated Transcriptional Repression Identifies Novel Targets and Distinctions from E2F Action." Cancer Research. 2002 Nov 15; 62(22):6587-97.
Angus, S., Wheeler, L., Zhang, X., Markey, M., et al. "The Retinoblastoma Tumor Suppressor Targets dNTP Metabolism To Regulate Cell Cycle Progression." J Biol Chem. 2002 Nov 15;277(46):44376-84.
Angus, S., Fribourg, A., Markey, M., et al. "Active Rb Elicits Late G1/S Inhibition." Exp Cell Res. 2002 Jun 10;276(2):201-13.
Is this you?
Log in
to update your profile.