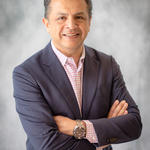 Alejandro C Calvo,
M.D.
Address:
Kmc-Internal Medicine, Kettering, OH 45429
I received my medical degree from the UMSS School of Medicine in Cbba, Bolivia in 1992. After medical school, I completed my Internal Medicine residency training at Kettering Medical Center-Wright State University School of Medicine in Dayton, Ohio, where I also served an additional year as Chief Resident in Internal Medicine and Transitional Year. After that, I pursued a combined Medical Oncology and Hematology fellowship at the University of Pittsburgh Cancer Institute-UPMC, I graduated the year 2000. I am board certified in 3 sub-specialties, Medical Oncology, Hematology as well as Hospice and Palliative Care Medicine. I am the program director for the Hematology-Oncology fellowship at Kettering Health Network. I hold appointments as associate clinical professor of medicine with Wright State School of Medicine and assistant clinical professor of medicine at Loma Linda University School of Medicine-KMC campus.
I have been awarded the KMC Teacher of the Year Award twice. My medical practice encompasses general medical oncology as well as benign and malignant blood disorders. I have a special interest in the management of breast and thoracic malignancies. My oncology and hematology training at University of Pittsburgh had an emphasis on thoracic oncology. During my fellowship I participated in key research studies related to lung cancer treatment. I actively participate in multi-centric clinical trials that have KMC as a participating institution.
Is this you?
Log in
to update your profile.