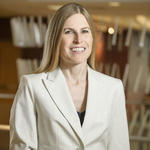 Rebecca M. Edwards,
Ph.D.
Department:
Sch of Humanities & Cult. Studies
Title:
Associate Professor, Classics
Address:
Millett Hall 382, 3640 Colonel Glenn Hwy., Dayton, OH 45435-0001
Education:
B.A., 1995, Missouri State University
M.A., 2000, Indiana University
Ph.D., 2003, Indiana University
Areas of Specialization:
Latin rhetoric and historiography
Roman history
Mythology and folklore
Teaching:
Dr. Edwards regularly teaches courses focusing on various aspects of the Roman world, including the History of the Roman Republic, Roman Historiography, and Roman Art and Architecture. She especially enjoys teaching Latin and Greek. She also teaches a course in Ancient Science. In conjunction with this class, the department hosts an Ancient Science Fair, where students present their research projects to the larger university community. Dr. Edwards is also the coordinator of the Latin licensure program and organizes the annual Latin Day where Latin students from area high schools participate in various activities, including a competitive trivia contest.
Research:
Dr. Edwards has published articles on the Roman historian Tacitus, including a chapter on Tacitus' Histories in the Blackwell Companion to Tacitus (Victoria Pagan, ed., Blackwell 2012). She has also published on the Roman Emperor Tiberius and his role in the Julio-Claudian dynasty. She has recently completed the manuscript for a book analyzing the development of the early principate through the lens of Max Weber's theory of the "routinization" of charisma.
Curriculum Vitae

CV Edwards website.pdf
123.06 KB
Is this you?
Log in
to update your profile.