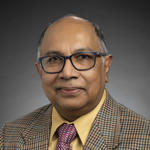 Ahsan Mian,
Ph.D.
Department:
Mechanical & Materials Engineering
Address:
Russ Engineering Center 126, 3640 Colonel Glenn Hwy, Dayton, OH 45435-0001
Teaching
Undergraduate Courses: Mechanics of Materials; System Dynamics; Additive Manufacturing; Mechanical Design I and II; Mechanical Vibration; Capstone I and II; Metrology
Graduate Courses: Mechanics of Electronic Packaging; Finite Element Method Applications; Computational Methods
Research Statement
My research focus is "Additive Manufacturing of Functional Structures" with specific following topic areas:
(http://cecs.wright.edu/~ahsan.mian/Research/)
Application-specific lattice design (for aerospace to biomedical applications);
Process development for 3D/2.5D printed electronics;
Heterogeneous integration of electronics;
Survivable electronics; 
Thermal/mechanical reliability of AM structures.
Professional Affiliations/Memberships
American Society for Engineering Education (ASEE)
American Society of Mechanical Engineers (ASME)
Is this you?
Log in
to update your profile.