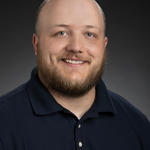 Alan Knowles,
M.A.
Department:
Sch of Humanities & Cult. Studies
Title:
Instructor, English Director of The New Media Incubator
Address:
Allyn Hall 436, 3640 Colonel Glenn Hwy, Dayton, OH 45435-0001
Alan is an Instructor of Professional and Technical Writing and Director of Wright State's New Media Incubator. His research focuses on the emerging human-AI writing process. He is a PhD candidate at Miami University (Oxford). 
Is this you?
Log in
to update your profile.