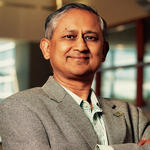 Amit Sheth,
PhD
Department:
Population and Public Health Sciences
Title:
Clinical Professor, Population & Public Health Sciences
Educator, Researcher and Entrepreneur. 
 
Prof. Sheth is working towards a vision of Computing for Human Experience, which focuses on human-centric future intelligent computing.  His recent themes have included semantic-cognitive-perceptual computing over physical-cyber-social big data. Technical components of his work involves semantics empowered Web 3.0 involving enterprise, social, sensor/IoT data as well as services and cloud interoperability.  His recent research themes include smart data (coined 2004), semantic sensor web (coined 2007), citizen sensing (coined 2008), and semantic perception (initiated 2010). His earlier work was on federated databases, semantic interoperability and workflow management. His extensive collaborations with clinicians and biomedical researchers encompasses biomedical knowledge discovery; and novel use social media and sensor data for patient-centered care and patient empowerment. Sheth's most prized achievement is the exceptional success of his past advisees; as of early 2015, 10 of 18 past PhD advisees have 1000+ citations each; two with 5000+ citations.
 
Earlier, Dr. Sheth was a professor at the Univ of Georgia, and he served in R&D groups at Bellcore, Unisys, and Honeywell. His h-index of 89, 31,000+ citations and i100=80 places him among the top authors in Computer Science (<100),  WWW (1-3) and databases (<25) [http://bit.ly/a-cite ; http://j.mp/MAS-a] . His research has led to several commercial products, many deployed applications, two past successful companies, and one recent startup. He is on several journal editorial boards, is the joint EIC of Distributed & Parallel Databases (DAPD), and a co-editor of two Springer book series. Earlier, he was the founding EIC of the Intl Journal on Semantic Web and Info Systems (IJSWIS). 
 
More on:
Exceptional careers for advisee (http://knoesis.org/amit/students)
Research leadership (http://j.mp/www-Mar13, http://j.mp/Jun14),
Vision (http://knoesis.org/vision),
Health Care & Life Sciences (http://knoesis.org/amit/hcls),
Tech Transfer & Entrepreneurship (http://knoesis.org/amit/commercialization),
Open Source Tools/Data/Ontologies (http://knoesis.org/opensource).
 
 
Is this you?
Log in
to update your profile.