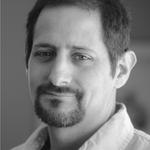 Benjamin J. Montague,
M.F.A.
Department:
School of Fine and Performing Arts
Title:
Associate Professor
Address:
Creative Arts Ctr 127, 3640 Colonel Glenn Hwy, Dayton, OH 45435-0001
Associate Professor of Art and Art History
Benjamin Montague is an Associate Professor in Photography at Wright State University. He received his MFA from the University of Delaware and his BA from Marlboro College.   Mr. Montague has exhibited his work widely and is currently represented by Chiaroscuro Contemporary Art in Santa Fe, New Mexico and Works on Paper Gallery in Philadelphia, PA. He has won several grants, including an Ohio Arts Council Individual Excellence Award in 2007. His work is included in the collections of the Columbus Museum of Art and the New Mexico Museum of Art in Santa Fe.
B.A., 1993, Marlboro College
M.F.A., 2004, University of Delaware
Areas of Specialization
Photography
www.benjaminmontague.com
Is this you?
Log in
to update your profile.