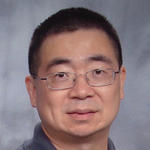 Bin Wang,
Ph.D.
Department:
Computer Science
Title:
Professor, College of Engineering and Computer Science
Address:
Joshi Research Center 491, 3640 Colonel Glenn Hwy., Dayton, OH 45435-0001
Research Statement
My research areas include: Multimedia communication, real-time system and communication, quality of service provisioning, wireless communication, wireless and mobile networking, wireless sensor networks, pervasive/ubiquitous computing, layered sensing and trusted query, trust, security and information assurance, open spectrum access & cognitive radio networks, information theory, game theory, distributed signal processing, semantic Web, RFID and medical/health informatics, organism and human cellular networks, dense wavelength division multiplexing (DWDM) optical networks, Grid computing.
Awards/Recognition
US Department of Energy Career Award 
Best Paper Award: IEEE BROADNETS 2007, Fourth IEEE International Conference on BroadbandCommunications, Networks, and Systems
Air Force Office of Scientific Research: Senior Research Fellowship
Is this you?
Log in
to update your profile.