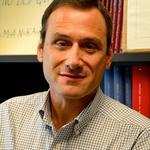 Bruce M. Laforse,
Ph.D
Title:
Associate Professor, Classics
Bruce LaForse earned a B.A. in history from Ithaca College, an M.A in Classics from San Francisco State University, and an M.A. in Greek and a Ph.D. in Classics from the University of Texas at Austin. He also studied at the American School of Classical Studies in Athens as the Heinrich Schliemann Fellow and was a member of the Graduate Seminar at the American Numismatics Society in New York. He has taught as an adjunct at Loyola University, Chicago and as a visiting assistant professor at the University of Mississippi. Since 2011 he has been the director of the Liberal Studies Program. 
Teaching
Dr. LaForse teaches Latin and Greek language courses at all levels, an introductory survey class on Greek and Roman cultures, Great Books courses on a range of topics, as well as upper level courses on Greek History and Historiography, Greek Warfare, Ancient Orators and Rhetoric, and warfare in ancient literature. He also regularly offers courses at various levels on War Memoirs. At Wright State he has received awards for excellence in teaching General Education courses as well from the Writing Across the Curriculum Program. At the University of Mississippi he received the Frank Frist Award for service to students.
Research
Dr. LaForse's research has focused on perceptions of ethnicity and on warfare, especially as depicted the works of the prolific the 4th BCE writer Xenophon. Recent publications include "Praising Agesilaus: the Limits of Panhellenic Rhetoric," Ancient History Bulletin 27 (2013) 29-48, and a chapter entitled "Fighting the Other Part 1: Greeks and Achaemenid Persians" in The Oxford Handbook of Warfare in the Classical World (Oxford 2013) edited by L. Tritle and B. Campbell.
Is this you?
Log in
to update your profile.