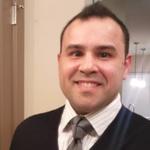 Carlos Eduardo Costa,
Ph.D.
Department:
School Public and Intern'l Affairs
Title:
Associate Professor
Address:
Millett Hall 329, 3640 Colonel Glenn Hwy, Dayton, OH 45435-0001
Dr. Costa is an Associate professor of Political Science. He teaches various classes on the topic of Latin American Politics and Comparative Politics.  In addition to substantive classes, Dr. Costa also teaches various classes related to research design both at the graduate and undergraduate levels, included statistics
Areas of Expertise:
Political Institutions
Latin American Politics
Quantitative Methods
Courses Taught
PLS 2000 - Political Life
PLS 4580/6580 - Latin American Politics
PLS 4590/6590 - Contemporary Brazi
PLS 3020- Introduction to Comparative Politics
RST 2880- Regional Studies of Latin America
PLS 3100- Statistics for Social Scientists
PLS 7010- Graduate Level Statistics
PLS 7030- Graduate Research Design
Education History
B.A., 1999 University of California at Berkeley, Political Science
Ph.D., 2011 Washington University in Saint Louis, Political Science
Is this you?
Log in
to update your profile.