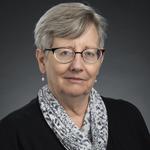 Carol S. Loranger,
Ph.D.
Department:
Vice Provost for Faculty Affairs
Title:
Vice Provost for Faculty Affairs
Address:
University Hall 268, 3640 Colonel Glenn Hwy, Dayton, OH 45435-0001
Carol S. Loranger, Vice Provost for Faculty Affairs.  She earned her Ph.D. in English from the University of Colorado, Boulder and has taught American literature at Wright State since 1993. She is the editor of Told in the Seed and Selected Poems of Sanora Babb (2021), and co-editor of The Dark Earth: Selected Prose from the Great Depression, by Sanora Babb (2021).
In addition to her work on Sanora Babb, she has published scholarship on the work of American writers as varied as William S. Burroughs, Thomas Pynchon, Jack London, Robert Frost, Paul Lawrence Dunbar, E. A. Robinson, Theodore Dreiser, Willa Cather, and Louisa May Alcott, primarily from the perspective of textual formation and reception. A sometime poet, her poems have appeared in Pebble, Mad River Review, Midwest Review and Louisville Review under the name Carol Schaechterle. 
Dr. Loranger serves on the board of Culture Works and on the associate board of the Dayton Literary Peace Prize, as well as the selection committee for the Richard C. Holbrooke Distinguished Achievement Award of the Dayton Literary Peace Prize. She created and maintains the DLPP Cumulative Bibliography in collaboration with Wright State University Libraries Technical Services division. 
Formerly Dr. Loranger was chair of the Wright State University Department of English Language and Literatures (2009-2018), President of the University Faculty (2015-2017), and Associate Dean of the College of Liberal Arts (2018-2021).
Is this you?
Log in
to update your profile.