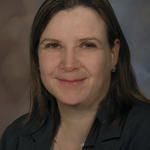 Catherine Mary Turner Sherwin,
PhD
Title:
Professor, Pediatrics; Vice Chair for Research, Pediatrics
Address:
Dayton Children's Hospital, 1 Childrens Plz, Dayton, OH 45404-1873
I am a Professor of Pediatrics and the Vice-Chair for research at the Department of Pediatrics, Wright State University Boonshoft School of Medicine and Dayton Children's Hospital. This involves mentoring faculty to advance academic productivity. I provide oversight, implementation, and facilitation of research for the Department. I meet with many different people to identify and promote opportunities for collaboration, not only within my own institution but also globally. I also undertake my own research and teaching program in pediatric clinical pharmacology.
Specialties: Clinical Pediatric and Maternal-Fetal Pharmacology and Toxicology, Pediatric Clinical Research & Development, Clinical Trials, Clinical Trial Simulation, Personalized/Precision (Individualized) Medicine, Modeling and Simulation (Pharmacometrics), Optimal Trial Design, Therapeutics, Pharmacodynamics, Pharmacogenomics, Pharmacokinetics, Translational Research, Medical, and Environmental Toxicology
Is this you?
Log in
to update your profile.