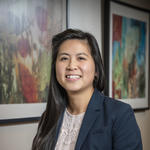 Christina B Knisely,
M.P.H.
Department:
Pharmacology & Toxicology-SOM
Address:
Health Sciences Bldg 207, 3640 Colonel Glenn Hwy, Dayton, OH 45435-0001
I have worked in various clinical research roles with different populations since 2013. Currently, I am the Regulatory and Financial Specialist for the Pharmacology Translational Unit (PTU) at Wright State Physicians. The PTU focuses on dermatology trials that are awarded to the department by industry and federally funded grants, such as the NIH and VA. My main role is managing the regulatory aspect of all of these trials.
Education Training
MPH - Drexel University, Philadelphia, PA 2012
BS in Health Policy and Administration – The Pennsylvania State University, University Park, PA 2010
Is this you?
Log in
to update your profile.