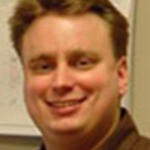 Corey E. Miller,
Ph.D.
Title:
Associate Professor
Address:
Fawcett Hall 433, 3640 Colonel Glenn Hwy, Dayton, OH 45435-0001
Corey E. Miller is an associate professor at Wright State University. He received his Ph.D. in industrial-organizational psychology from the University of Akron. His research interests include personnel psychology, legal issues, and diversity management. He is the author of several papers, and has published in journals such as the Journal of Applied Psychology and American Psychologist. He teaches graduate courses in industrial/organizational psychology, personnel selection, and psychometrics, and undergraduate courses in tests and measures, industrial/organizational psychology, and human sexuality. He has experience as a consultant in a human resources consulting firm, and consults on an independent basis on topics such as sexual harassment and diversity, personnel selection, questionnaire development and performance appraisal.
Curriculum Vitae

Miller _Vita.pdf
200.4 KB
Is this you?
Log in
to update your profile.