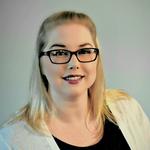 Corinne R Thaxton,
A.A.S.
Department:
Pharmacology & Toxicology-SOM
Title:
Graduate Program Coordinator
Address:
Health Sciences 237, 3640 Colonel Glenn Hwy, Dayton, OH 45435-0001
Corinne is a paralegal by education and experience, but brings with her impeciable organization, coordination, and communications skills from her prior work experience. Corinne joined the department in February 2020. Her main areas in the department include social media, PTX webpage monitoring/editing, course/semester scheduling, curriculog creation, curriculum building, alumni relations, and student assistance.
Corinne earned her A.A.S. from Sinclair Community College and continues to work toward earning her bachelor degree.
Outside of work, Corinne is a huge baseball fan, loves going to see stand-up and attending concerts, and vacationing in Memphis at Graceland.
Education History:
2017 Graduate, Sinclair Community College, A.A.S. in Paralegal
Academics
Teaching:
Guest lecturer for Sinclair's Paralegal program discussing real-world discovery aspects. 2018.
Professional
Professional Affiliations/Memberships:
Is this you?
Log in
to update your profile.