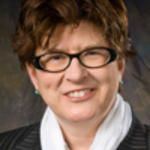 Cynthia G. Olsen,
MD
Department:
Family Medicine
Title:
Professor Emerita, Family Medicine
Cynthia Olsen, M.D., professor of family medicine, graduated from the Wright State University School of Medicine, where she served as class president for three years. She completed her residency at the Good Samaritan Hospital Family Medicine Residency Program and was chief resident. Before medical school, she attended the Ohio State University, earning a B.S. in microbiology and immunology, and worked in the Department of Veterinary Pathology as a research assistant for five years. A member of the Department of Family Medicine since 1988, Dr. Olsen has served in a variety of leadership roles, including serving as medical director of the outpatient facility and at two long-term nursing facilities, and as executive vice chair and acting chair until 2014. She is involved in teaching, patient care and research. Personally, Dr. Olsen is proud of the support she provided to her younger brother John, who passed away in October 2011 at the age of 39. She resides in Yellow Springs, Ohio, with her long-term partner and her son. Vegetable gardening and healthy home cooking in a sustainable fashion is a passion in her spare time.
Certification:
Family Practice (1988); Recertified (2000)
Certificate of Added Qualifications, Geriatric Medicine (ABFP) (2002)
Clinical Expertise:
Family Medicine-Outpatient/inpatient
Geriatrics/Long-Term Care
Medical Care of Adult MR/DD
Primary Care of Women
Education History
M.D.: Wright State University School of Medicine (1985)
Residency: Good Samaritan Hospital, Dayton, Family Practice (1988)
Fellowship: Executive Leadership in Academic Medicine (ELAM), Philadelphia (1996)
Professional Affiliations/Memberships
The American College of Physician Executives
American Medical Society
Academy of Family Practice
American Geriatrics Society
Society of Teachers in Family Medicine
Ohio Geriatrics Society
Is this you?
Log in
to update your profile.