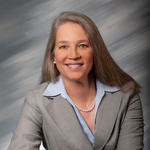 Dawn P. Wooley,
Ph.D.
Department:
NeuroScience Cell Bio Physio-COSM
Title:
Professor, Neuroscience Cell Biology & Physiology
Address:
Biological Sciences II 143, 3640 Colonel Glenn Hwy., Dayton, OH 45435-0001
Education History
Postdoctoral Fellow; University of Wisconsin, Madison, 1992-1994
Mentor: Nobel Laureate Howard M. Temin, Ph.D.
Retroviral mutation and recombination
Viral vector technology
Ph.D., Virology; Harvard University, 1992
Office of Naval Research and Albert J. Ryan Graduate Fellowships
Mentor: Ronald C. Desrosiers, Ph.D.
Dissertation: Envelope sequence variation and immune selection of simian immunodeficiency virus (SIV) in persistently infected rhesus monkeys.
B.S., Microbiology; Pennsylvania State University, 1986
Summa cum laude with Honors in Molecular and Cell Biology
Mentor: Richard J. Frisque, Ph.D.
Honors Research Project: Analysis of Naturally Occurring BK Virus Variants
Teaching
Virology (MI 4310/6310)
Medical Microbiology (MI 4750/6750)
Biological Safety (MI/ANT 4340/6340)
Special Problems in Microbiology and Immunology (MI 4990/6990)
Gene Therapy (MI 7770)
Thesis and Dissertation Writing (PN 7080)
Host and Defense (SMD 8185)
Microbiology and Immunology Seminar (MI 7000)
Research in Microbiology and Immunology (MI 7890)
Microbiology and Immunology Thesis Research (MI 7990)
Research Statement
My research interests include the following: Molecular mechanisms of viral mutation, recombination, tropism, and pathogenesis; Evolution of human pandemic viruses (HIV-1, Influenza A virus, SARS-CoV-2); Use of viral vectors for gene transfer (lentivirus, adenovirus, adeno-associated virus, and poxvirus); HIV-1 infection of eosinophils; Antiviral nanotechnology; Biosafety of viral vectors in research laboratories and animals.
Service
Faculty Senate Vice President (2023-present)
Director of the Master of Science Program in Microbiology & Immunology (2018-present)
Poliovirus Containment Working Group, CDC (2017-present)
Board of Scientific Counselors, CDC (2016-2022)
NIH Recombinant DNA Advisory Committee, member (2012-2017)
Numerous Committees at the University, School, College, Department, and Program levels
Publications
Adelman, Z. N.*, Albritton, L. M., Boris-Lawrie, K., Buchmeier, M. J., Cannon, P., Cho, M., DiGiusto, D., Donahue, J. K., Federoff, H. J., Hammarskjold, M.-L., Hardison, A. D. Hearing, P., Lee, B., Lee, D. A., Porteus, M. H., Ross, L. F., Ross, S. R., Wooley, D. P., Zoloth, L. (2018). Protect NIH's DNA advisory committee. Science  26 Oct 2018:Vol. 362, Issue 6413, pp. 409-410. DOI: 10.1126/science.aav2483.
Wooley, D. P., Sharma, P., Weinstein, J. R., Narayan, P. K. L., Schaffer, D. V., & Excoffon, K. J. D. A. (2017). A directed evolution approach to select for novel Adeno-associated virus capsids on an HIV-1 producer T cell line. J. Virol. Methods. 250:47-54.
Wooley, D. P., & Vasanth, S. (2017). Duplex quantitative polymerase chain reaction assay for detection of adenoviral and lentiviral vectors. Applied Biosafety, 22(3):104-113.
Wooley, D. P., & Byers, K. B. (Eds.). (2017). Biological Safety: Principles and Practices (5th ed.). Washington, DC: ASM Press.
Wooley, D. P. (2017). Molecular Agents. In D. P. Wooley & K. B. Byers (Eds.), Biological Safety: Principles and Practices (5th ed., pp. 269-283). Washington, DC: ASM Press.
Wooley, D. P., & Fleming, D. O. (2017). Risk Assessment of Biological Hazards. In D. P. Wooley & K. B. Byers (Eds.), Biological Safety: Principles and Practices (5th ed., pp. 95-104). Washington, DC: ASM Press.
Schlimgen, R., Howard, J., Wooley, D., Thompson, M., Baden, L. R., Yang, O. O., Christiani, D. C., Mostoslavsky, G., Diamond, D. V., Duane, E. G., Byers, K., Winters, T., Gelfand, J. A., Fujimoto, G., Hudson, T. W., Vyas, J. M. (2016). Risks associated with lentiviral vector exposures and prevention strategies. J Occup Environ Med, 58(12), 1159-1166.
Is this you?
Log in
to update your profile.
Attachments