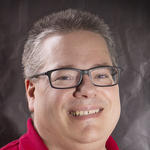 Eric N. Rowley,
Ph.D.
Address:
Fawcett Hall 271, 3640 Colonel Glenn Hwy, Dayton, OH 45435-0001
Dr. Rowley received his B.S. in Physics from the University of Minnesota, Institute of Technology, his M.A.T in Physics and Chemistry Teaching from Minnesota State University, Mankato and his Ph.D. in Science Education from the University of Iowa.  He joined the faculty as an Instructor in Fall 2009 and as a Lecturer in  Fall 2012.  As a former high school physics teacher, Dr. Rowley has been actively involved in teaching introductory physics course for pre-service teachers.  During his time at WSU, Dr. Rowley has been actively involved with teaching and committee work at the department, college, and university level.  He is currently chair of the Commencement Committee, is a member of the CoSM Dean's Steering Committee, and spends a considerable amount of time as a volunteer coach and event judge for Science Olympiad.
Is this you?
Log in
to update your profile.