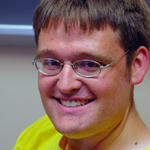 Erik Potts,
M.S.
Department:
Mathematics & Statistics
Address:
Math/Microbiology Bldg 261, 3640 Colonel Glenn Hwy, Dayton, OH 45435-0001
Erik Potts is an Instructor of Mathematics, Statistics, and Math Education in the Department of Mathematics and Statistics. He is a proud, two-time graduate of Wright State (Go Raiders!), having earned both his bachelor of science (in mathematics, with a concentration in mathematics education) and master of science (in pure mathematics) degrees here. He loves to teach any course in mathematics, statistics, and math education and has taught almost every course in the first half of an undergraduate mathematics degree (up through differential equations and linear algebra). Additionally, he has taught a UVC 1010 (First-Year Seminar) course through University College for incoming, undecided engineering students. (It was lots of fun!) But what class is his favorite to teach? He likes them all! Erik likes working with each of the different student populations at Wright State, getting them interested in and excited about mathematics and how it relates to their world. In fact, pedagogy, best teaching practices, and other areas of undergraduate mathematics education are of particular interest to him. (He also likes mathematical modeling and how it can be used in the classroom.) And, of course, he loves math and stats in general!
Before coming back to Wright State full-time, Erik taught at Wilberforce University full-time. At that same time, he taught part-time here at Wright State and at Sinclair Community College in Dayton, Ohio. In graduate school, he served as a Graduate Teaching Assistant and taught his own classes nearly every semester in school. Before that, as an AYA (Adolescent to Young Adult) teacher candidate during his undergraduate time, Erik had several teaching placements, including at the Dayton Regional STEM School, West Carrollton Middle School, Thurgood Marshall High School (Dayton), and Westwood PreK-8 School (Dayton). Along with tutoring (both at the high school and college level) and other teaching-related activities, you could say that teaching is in his blood!
Besides his teaching duties, Erik is active in service to the Department of Mathematics and Statistics, College of Science and Mathematics, and the University itself, substituting in his colleagues' classes, serving on committees and task forces, managing the annual American Mathematics Contest (AMC) 8th Grade Test each fall, volunteering for the annual Ohio Mathematics Contest (OMC) each spring, and helping in other ways. He also assists with the Greater Miami Valley Math and Computer Science Circles, where he is a "floating" instructor and executive committee member for the math circle, a board member for the computer science circle, and a member of the Social Media Group.
In his off time, Erik likes to relax with friends and family, watch TV and movies, play video and computer games, play music (he plays many instruments and sings), read, go on walks (a very "mathy" thing to do!), and play tennis and volleyball. He is an avid fan of Star Wars (The Empire Strikes Back is the best one), Star Trek (Next Generation is the best series), Lord of the Rings, The Legend of Zelda series, NCIS, Big Bang Theory, and more. In fact, he inherited a life-size, cardboard cut-out of Captain Jean-Luc Picard (Patrick Stewart) from a retired colleague and, thus, calls his office "The Captain's Ready Room" (which, ironically, is close to the "bridge" of the department, the main office, just like on the Enterprise D on the show). Currently, he is trying to track down a certain BB unit for his office....
Is this you?
Log in
to update your profile.