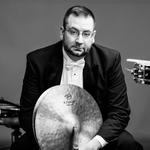 Gerald Noble, III,
M.M.
Department:
School of Fine and Performing Arts
Address:
Creative Arts Center 175K, 3640 Colonel Glenn Hwy, Dayton, OH 45435-0001
Gerald Noble
Director of Percussion
M175K Creative Arts Center
gerald.noble@wright.edu
Phone: 937-241-2205
Jerry Noble is Director of Percussion at Wright State University and member of the Dayton Philharmonic.  Previously, he was a member of the USAF Band of Flight where he performed over 1,500 concerts throughout the Midwest, including performances for presidents, vice presidents, senators, foreign dignitaries, and other heads of state. He has served as faculty/performer at Brevard Music Center, the Masterworks Festival, Affetti Music Festival in Alaska, and has performed/presented clinics at PASIC, Ontario Day of Percussion (Canada), Illinois Day of Percussion, Ohio Day of Percussion, Zhengzhou Normal University in China, Ohio Music Educators Association Conference, Interlochen Arts Academy, and throughout the US (including Alaska and Hawaii). 
As a percussionist Jerry has performed with the Cincinnati Symphony/Pops, Louisiana Philharmonic, Fort Wayne Philharmonic, Indianapolis Symphony, Columbus Symphony, Indianapolis Chamber Orchestra, Concert:Nova, and the New World Symphony. 
As a timpanist he has worked with the Cincinnati Symphony, Rochester Philharmonic (NY), Alabama Symphony, Indianapolis Symphony, Fort Wayne Philharmonic, New World Symphony, New Mexico Symphony, Oakwood Brass (Principal Timpani), Indianapolis Chamber Orchestra (Acting Principal), Lakeside-Chautauqua Symphony (Principal Timpani), USAF Band of Flight Concert Band (Principal Timpani), Hunan Symphony-China (Acting Principal), Erie Philharmonic, and the West Virginia Symphony.
He has performed with Weird Al Yankovic, Don Rickles, Art Garfunkel, The Miracles, Smothers Brothers, Arturo Sandoval, Aretha Franklin, Neil Sedaka, Melissa Ethridge, Al Vizutti, Sir James Galway, Mark O'Connor, Janos Starker, and Eighth Blackbird.  Select memorable performances include performances in Carnegie Hall, tours in China, Tibet, Alaska, Texas; and for "Fox and Friends" Morning Show, Indianapolis 500, Cleveland Indians Opening Day, American League Championship Series, Cincinnati Reds Opening Day, Cleveland Browns Playoffs, Cincinnati Bengals Football Games, and the Midwest Clinic in Chicago.
As a drumset performer, Jerry performs regularly with his pop/jazz group "Moment's Notice"—they have performed as guest artist with the Dayton Philharmonic, have been featured in concert at Lakeside Chautauqua, play for private parties/receptions/weddings, and tour regionally. He has also played drumset with the Cincinnati Symphony, Dayton Philharmonic, Springfield Symphony, Fort Wayne Philharmonic, USAF Band of Flight, and Lakeside-Chautauqua Symphony. He performs for nationally touring Broadway musicals and with music theater companies/traveling shows throughout the Midwest (Drumset/percussion/timpani), and has toured the Caribbean as a drummer for Princess Cruises,
Jerry is regulary involved with the marching arts as a consultant/battery and front ensemble instructor.  He has served as percussion staff/arranger for the University of Cincinnati Bearcats Band, and has performed with Star of Indiana's "Brass Theater" (Predecessor to BLAST!). During the winter season he has been a judge for regional indoor drumline competitions and has judged MEPA and WGI groups.  
As a chamber musician, Jerry has worked with the D'Addario Percussion Quartet (tours to Texas and Indianapolis), Bob Becker, Mike Burritt, Gwen Dease, So Percussion, Nick Angelis, Concert:Nova, Percussion Collective Robert Van Sice; and members of the Indianapolis Symphony, Cincinnati Symphony, Cleveland Orchestra, Sandbox Percussion, NEXUS, and the Old Guard Drumline. 
The Wright State Percussion Ensemble has been featured in concert at the Percussive Arts Society International Convention (2016 winner—International Percussion Competition), Ohio Music Educator Association Conferences x4, Ohio Days of Percussion x3, Interlochen Arts Academy, the Niu Valley Percussion Festival in Hawaii, at the Dayton Leavitt Pavilion, and the Wright State University Arts Gala.  
FORMER STUDENTS hold performance positions with or have been members of: the US Army Old Guard Fife and Drum Corps (Washington DC), The United States "Pershing's Own" Band (Washington DC), US Navy Bands, US Army Bands, BLAST! Mansfield Symphony (Principal Percussion), Richmond Symphony, Sheboygan Symphony, Idaho Falls Symphony, Champaign-Urbana Symphony, Carnival Cruises, Dolly World, and Cedar Point.
FORMER STUDENTS have performed with the Cincinnati Symphony, Buffalo Philharmonic, West Virginia Symphony, Dayton Philharmonic, USAF Band of Flight, Fort Wayne Philharmonic, Erie Philharmonic, Indianapolis Chamber Orchestra, Lansing Symphony, Colorado Symphony, Youngstown Symphony, Cleveland Pops, the Lakeside-Chautauqua Symphony, Springfield Symphony, Ashland Symphony, Toledo Symphony, Summit Brass; and attended the following summer festivals National Orchestral Institute, Brevard Music Center, Eastern Music Festival, Bang on a Can, So Percussion Summer Institute, Chosen Vale, National Repertory Orchestra, Lucerne Festival, and Texas Music Festival.
FORMER  and CURRENT STUDENTS are or have been instructors for: University of Wisconsin-Milwaukee, University of Cincinnati-Bearcat Bands, Ashland University, Rhythm X, Madison Scouts, Phantom Regiment , Cap City, ConneXus, Brigham Young University-Idaho, Illinois Wesleyan University, and serve as active educators and judges throughout the US.  
He is very thankful for his teachers: Tom Freer, Kenny Aronoff, Jim Rupp, Jim Culley, Rusty Burge, Al Otte, Gerald Carlyss, Glenn Schaft, and Bob McKee. Jerry has also had lessons with Cloyd Duff, Richard Weiner, Ricardo Flores, Mike Werner, John Riley, and Steve Houghton. 
Jerry Noble is a performing artist/clinician for Freer Percussion, Zildjian, Pearl/Adams, , and Evans Heads.
He and his wife Ashley have three children: Ava, Lydia, and Isaac. Ashley is an oboist/English hornist and a homeschool mom.
Education
Cleveland State University, BM (Tom Freer, Bob McKee)
Indiana University, Performer's Diploma (Gerald Carlyss, Kenny Aronoff)
University of Cincinnati-College Conservatory of Music, MM (Jim Culley, Rusty Burge, Al Otte)
Professional Affiliations/Memberships
Percussive Arts Society
Ohio Music Education Association
National Association for Music Education
International Association of Musicians
American Federation of Musicians, Local 101—Dayton
American Federation of Musicians, Local 1—Cincinnati
American Federation of Musicians, Local 3—Indianapolis
Awards/Recognition
Percussive Arts Society-Ohio Chapter, Vice-President, 2016-2019
Wright State University, CELIA Fellowship, 2017
Percussive Arts Society-Ohio Chapter, President/Treasurer, 2010–2016
Dayton Philharmonic "Horine Scholarship" Winner, Professional studies w/Robert Van Sice, 2009
USAF Commendation Medal, 2008, 2006
USAF Achievement Medal, 2007, 2005
USAF Band of Flight, Non-Commissioned Officer of the Year, 2006
USAF Band of Flight, Airman of the Year, 2004
Recording Credits
Cincinnati Symphony (Ameriques, Edgar Varese), Grammy Nominated "Transatlantic", Extra Percussion, 2019
Wright State Department of Theater, "Mother Courage", Percussion, 2019
Dr. Steve Darling, (Tuba), "Dualities" Emeritus Records, Producer, 2018
      -Received two Global Music Awards, Recipient of several grants
Cincinnati Symphony (w/Maya Angelou), Grammy Nominated "Hallowed Ground", Extra Percussion, 2014
Dr. Dan Zehringer (Trumpet), "Journeymen's Songs" PARMA Recordings, Marimba/Drumset, 2014
Cincinnati Symphony, Phillip Glass: Cello Concerto #2 "Naqoyqatsi" Orange Mountain Music, Percussion, 2013
Dayton Philharmonic, "Celebration of Flight" Albany Records, Section Percussion, 2004
USAF Band of Flight, "A Symphony of Fables" by Julie Giroux, Principal Timpani, 2006
Fort Wayne Philharmonic, Extra Percussion, 1998
Is this you?
Log in
to update your profile.