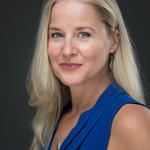 Gina Walther,
B.F.A.
Department:
School of Fine and Performing Arts
Title:
Associate Professor of Dance, Theatre Arts
Address:
Creative Arts Center T204, 3640 Colonel Glenn Hwy., Dayton, OH 45435-0001
Gina's career has spanned over 20 years and has included performing, choreographing, and teaching. As a professional dancer, she performed works by many of modern dances' most influential choreographers, they include: Dwight Rhoden, Ulysses Dove, Donald McKayle, Merce Cunningham, Talley Beatty, Anna Sokolow, BeBe Miller, Donald Byrd, and many more. While performing with The Dayton Contemporary Dance Company from 1990-1998, Gina toured Germany, Russia, France, and throughout the United States. During her tour of the United States, she had the honor of performing at Lincoln Center, The Kennedy Center, and The Joyce Theatre. In 1997 she was featured in the PBS special "Free to Dance," dancing the lead duet in Talley Beatty's "The Stack Up." Gina finished up her professional dance career by winning the 1997 Josie Award for Outstanding Female Concert Dancer.
With a desire to share her creative knowledge, Gina began teaching and choreographing after her retirement from concert dance and has become a sought after teacher/choreographer throughout the country. Her teaching experience includes Point Park University (PA), New Arts Festival (FL), RDA Craft of Choreography Conference (UT & PA), Dayton Contemporary Dance Co. (OH), Dance On Tour (NM), Vineland Regional Ballet Company (NJ) RDA Pacific Festival 2010 (WA) and South Dayton Dance Theatre. Gina's choreography has won several choreographic awards including the prestigious Project Tier award and received Gala Status four times at the RDA/NE Regional Ballet Festival. Most recently the New York Times called her work Still Present set on DCDC in 2008 "a stirring dance" that "served as a sparkling introduction to the troupe". In 2011 she choreographed the monumental Bernstein's MASS which was performed for over 2,000 audience members in two sold out performances on the 40th Anniversary year of its premiere in Washington, D.C. Most recently she was commissioned to set a new work for the professional dancers of Dayton Ballet which premiered at the Victoria Theatre on the Romance Series.
Gina received her B.F.A. in Dance Performance from Southern Methodist University and is currently an Associate Professor of Dance at Wright State University.
Education History
B.F.A. in Dance Performance Southern Methodist University
Is this you?
Log in
to update your profile.