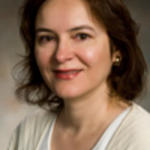 Gordana Gataric,
MD
Title:
Assistant Professor, Geriatrics & Internal Medicine
Address:
VA Medical Center, 4100 W Third St, Dayton, OH 45428
Certification
Internal Medicine (2002)
Geriatric Medicine (2007)
Clinical Expertise
Geriatric Medicine
Long-Term Care
General Internal Medicine
Hospital Privileges
Miami Valley Hospital (a)
Dayton VA Medical Center (c)
Key: (a) denotes active status; (c) denotes courtesy status
Education History
M.D.: University of Novi Sad, Novi Sad, Serbia
Residency: Wilson Memorial Regional Medical Ctr., Johnson City, NY (internal medicine)
Fellowship: Indiana University School of Medicine (geriatric medicine)
Professional Affiliations/Memberships
American College of Physicians
American Geriatrics Society
Is this you?
Log in
to update your profile.