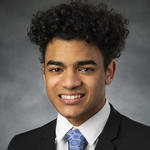 Cobi Haverfield
Student college:
Raj Soin College of Business
Cobi Haverfield is a second year at Wright State pursuing a Bachelor of Science in Business majoring in Finance with expectations to graduate in the Spring of 2024. He is from Xenia, Ohio, and has future plans to become Financial Analyst after the completion of his undergraduate degree. He is also a member of Finance Club.
Is this you?
Log in
to update your profile.