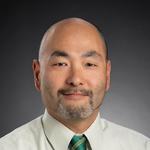 Hideo Tsuchida,
M.S.
Department:
Undergraduate Admissions
Title:
Director for Articulation, Transfer and Institutional Partnerships
Address:
University Hall 291B, 3640 Colonel Glenn Hwy, Dayton, OH 45435-0001
Thank you for your interest in Wright State University.  I am Hideo Tsuchida, Director of Articulation, Transfer, and Institutional Partnerships.  First and foremost, I am a strong advocate for transfer students and transfer credits.  My role with the university is to make sure that Wright State's transfer credit process and policies are fair and equitable for all students.  Each student deserves an opportunity for a quality education in an affordable and responsible way, and I work closely with faculty, staff, academic advisors, and other professionals to remove obstacles for students to access that opportunity.  Where appropriate and when credit is due, I'm committed to making sure that your prior learning is reviewed for college-level learning and we practice transparency about transfer credit reviews. 
I also work diligently to collaborate with the campus community to celebrate you as a transfer student and create opportunities for you to feel a sense of belonging and value.  My transfer team and I will be a great resource for you.  If you ever feel stuck or don't know what to do related to transfer credit, please reach out right away.  We are always looking for ways to make transfer student lives better at Wright State.
Please feel free to reach out to me directly at (937) 775-2123 or hideo.tsuchida@wright.edu.  Go Wright State, Raider up!
Education History
Buffalo State College (State University of New York College at Buffalo)
M.S., Student Personnel Administration, August 2002
B.S., English Secondary Education, May 2000
Is this you?
Log in
to update your profile.