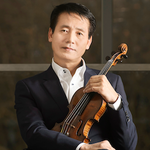 In-Hong Cha,
D.M.A.
Department:
School of Fine and Performing Arts
Address:
Creative Arts Center 085C, 3640 Colonel Glenn Hwy., Dayton, OH 45435-0001
Professor of Violin
Coordinator of Strings
Director of Orchestral Studies
Conductor, University Symphony Orchestra,
M085C Creative Arts Center
(937)474-9963
in-hong.cha@wright.edu
Dr. In-Hong Cha is known as the 'Maestro in a Wheelchair', has been called a violinist of delicate and refined musicality. As a Professor of Music at School of Music, Wright State University in Dayton, Ohio, he teaches applied violin, serves as director and conductor of the University Symphony Orchestra, and is concertmaster of the WSU Chamber Orchestra, and leads the Faculty String Quartet.
As a violinist Dr. Cha has traveled throughout the United States and internationally in Russia, Mexico, Canada, Venezuela, Paraguay, Brazil, Italy, Croatia, Germany, Paris, China, Taiwan, Japan, Indonesia, Saipan and Korea.  His performance and interview as a special guest at The Crystal Cathedral in California has been televised worldwide.
As an orchestral conductor, Dr. Cha has conducted numerous orchestras such as St. Petersburg Philharmonic Orchestra in Russia, Orquesta Sinfonica de Venezuela, D'Camara Strings in Venezuela, Gangnam Symphony Orchestra, Busan Symphony Orchestra, Soliall Philharmonic Orchestra, Amabile Chamber Orchestra of Korea, New York Brooklyn Conservatory Orchestra, and the South Carolina Chamber Orchestra.
As a chamber musician he has studied with the La Salle Quartet for four years, and served as the first violinist in the Bethesda String Quartet, a group that has performed together professionally for more than twenty years.
Formerly, Dr. Cha was the concertmaster in the Daejon Philharmonic Orchestra (Korea), was principal second violin in the South Carolina Philharmonic Orchestra (USA), and was music director of the Amabile Chamber Orchestra (Korea).
His first debut recording as a conductor was with the St. Petersburg Philharmonic Orchestra in Russia, which was released by Sony/BMG of Korea and second recording with Venezuela Symphony Orchestra, has been nominated for 2017 Latin Grammy Awards and 2018 Pepsi Music Awards (Awarded in Two Categories: Best Album of the Year, Best Artist of the Year)
His published autobiography, "Beautiful Man and Beautiful Success" (2003) and "Wheelchair is My Wing" (2012), led to Dr. Cha's fame and to the production of two documentary films by the Korea Broadcasting System (KBS).  He was also honored to receive the Korean Presidential Award for the most distinguished Korean living in a foreign country.   
Dr. Cha earned his doctoral degree in orchestral conducting at University of South Carolina and holds degrees in violin performance at Brooklyn College, City University of New York and College-Conservatory of Music, University of Cincinnati.
Dr. Cha studied violin with Minja Kwack, Youngil Ko, Namyun Kim, Hyo Kang, Walter Levin, and Jens Ellermann.  He studied chamber music with La Salle String Quartet, Masao Kawasaki, and conducting with Dorothy Klotzman and Donald Portnoy.  
He plays a Joseph Gagliano violin made in Naples, Italy in 1769.
Dr. Cha enjoys wheelchair sports, holds a gold medal for the Wheelchair Slalom from the Asian Games for Disabled, and holds the state record for Slalom from the Ohio Wheelchair Games. 
Is this you?
Log in
to update your profile.