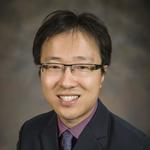 Hong Lee,
Ph.D.
Department:
Finance & Financial Services
Title:
Associate Professor
Address:
Rike Hall 259, 3640 Colonel Glenn Hwy, Dayton, OH 45435-0001
Hong Lee was born in Seoul, South Korea. He holds a Ph.D. in finance from Louisiana State University and a master's degree in economics from Brown University.  Lee's research interests are primarily in the areas of banking and real estate economics. In particular, he examines and reveals the complexity of securitization process, and the data structure for private-label mortgages that previous studies failed to consider. His paper on deleveraging through mortgage curtailments is forthcoming in Journal of Banking and Finance. The paper on loan-level disclosure of risk factors in RMBS deals is published and named as a highly commended paper of 2014 in Journal of Risk Finance. His research papers were invited for presentation at Asian, European, and U.S. Financial Management Association, American Real Estate and Urban Economics Association, Southern Finance Association, the Bank of Canada, and the Treasury Department.
Is this you?
Log in
to update your profile.