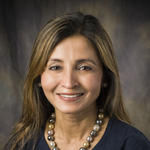 Huma Aman Bashir,
EdD
Department:
Human Services
Title:
Associate Professor and Chair
Address:
Millett Hall 389, 3640 Colonel Glenn Hwy, Dayton, OH 45435-0001
Huma Bashir, Ed.D, LPCC-S, LICDC-CS is an owner of her private practice in Springfield, Ohio. She is an experienced counselor who believes in offering compassionate care to her clients who are facing challenges with mental, emotional and substance abuse problems. She is trained in PTSD, substance abuse, mood and anxiety disorders, and relational issues. She was trained by Beck Institute for Cognitive Behavior Therapy in Philadelphia and is certified in Eye Movement Desensitization and Reprocessing (EMDR) Therapy. She also serves as a supervisor for counselors.
Huma began her career serving as a Mental Health Outpatient Counselor in an agency setting; during that time, she received her doctorate in Counselor Education and Supervision from University of Cincinnati (2012). Huma currently works part-time at her private practice as an outpatient clinical counselor. She serves as Chair of Human Services Department and Director of Clinical Mental Health Counseling program at Wright State University. She was also appointed as Clinical Assistant Professor in the Department of Psychiatry at Wright State University Boonshoft School of Medicine, teaching the Cognitive Behavior Therapy course to psychiatry residents.
Her focus in research has been related to multicultural issues utilizing the Ecological Perspective and Mood Disorders/maternal depression. She has worked with a variety of children, teens, adults, couples and families across a variety of ethnic backgrounds and cultures. Her altruistic approach is exemplified through her strong community involvement in which her mastery in trauma has facilitated many patients, including the incarcerated population.
Huma's collaborative approach to teaching allows her to truly engage students, creating an environment that meshes theory and research with real-world experience.  This creates a learning environment within which students can internalize how to use the multiple facets of their lives to make informed decisions.  Her teaching approach serves as an opportunity to share and expose students to views other than their own, expanding their perspective, helping to create thinkers who value the diversity of our ever-changing environments.
Is this you?
Log in
to update your profile.