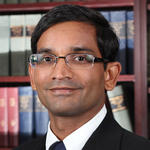 Indresh Venkatarayappa,
MBBS
Department:
Orthopaedic Surgery\, Sports Medicine\, and Rehabilitation
Title:
Assistant Professor, Orthopaedic Surgery
Address:
Miami Valley Hospital, 30 E Apple St Ste 2200, Dayton, OH 45409-2939
Education
M.D.: Bangalore Medical College (1998)
Residency: Orthopaedic Surgery, Mumbai, India (M.S., 2003)
Residency: Specialist Training in Orthopaedics, Edinburgh, United Kingdom (M.R.C.S. 2006)
Residency: Wright State University (2013)
Fellowship: Orthaepedic Trauma (2008)
Clinical Expertise
Orthopaedic Trauma
Adult Reconstruction
Is this you?
Log in
to update your profile.
Attachments

Dr. Venkatarayappa's CV
108.35 KB