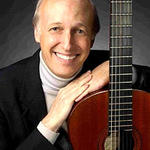 James R. McCutcheon,
M.M.
Address:
Creative Arts Center 085A, 3640 Colonel Glenn Hwy, Dayton, OH 45435-0001
James McCutcheon
Adjunct Professor, Classical Guitar
M244 Creative Arts Center
(937)775-2508
james.mccutcheon@wright.edu
Jim McCutcheon, faculty associate in guitar, is listed on the Ohio Arts Council Touring Roster. He holds a B.S. in physics from the University of Dayton, a B.M. in guitar performance and a M.M. in Music Education from Wright State University.
In 1991, he was the first recipient of the WSU Music Department Distinguished Alumni Award for his achievements as a musician, music teacher, and arts advocate. He also received the 1992 School of Graduate Studies Outstanding Alumni Award.
He received two Montgomery County Culture Works Individual Artist Fellowships for composition, a Parents' Choice Foundation Silver Award for his CD "A Day with the Guitar Man," a Muse Machine Prism Award and he was inducted as a Sigma Alpha Iota Friend of the Arts.
He has written several method books for guitar instruction, numerous compositions, and several articles for guitar journals in the USA and England. He currently reviews recordings for Soundboard, the quarterly publication of the Guitar Foundation of America, and he has produced a weekly classical guitar program, "The Intimate Guitar," on Dayton Public Radio for over twenty years. He is Guitar Advisor to the National Federation of Music Clubs, president of the Dayton Classical Guitar Society and is also Director of Concerts at the Dayton Art Institute.
Go to Jim's website for more information.
Is this you?
Log in
to update your profile.