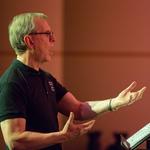 James W. Tipps,
Ph. D
Department:
College of Liberal Arts Admin
Title:
Professor Emeritus
James Tipps, Ph.D.
Faculty emeritus
Choral Studies
Music Education
087D Creative Arts Center
james.tipps@wright.edu
Dr. James W. Tipps came to Wright State University in the Fall of 1992.  Dr. Tipps was the conductor of the Wright State University Men's Chorale, and his teaching load included research and music education methods courses at both the undergraduate and graduate levels. Presently he teaches Music in the Elementary School, Vocal and Choral Pedagogy, as well as Teaching Reading in the Music Content Area.
Still active as a choral clinician and researcher, Tipps has presented workshops in regional, national, and international venues.  He has served on the Ohio Music Education Association state board, and served as advisor for the Ohio Collegiate Music Education Association, as well as the WSU chapter. He has served on the editorial board of Contributions to Music Education.
Prior to his appointment at Wright State, Tipps taught elementary school general music and high school choral music in Georgia, and conducted Men's Glee Club and Choral Union at Florida State University.  Additionally he continues to work extensively with church music as a conductor, pianist, organist, and consultant in the mid-west and southeastern United States. He is currently the director of traditional and choral music at South Dayton Presbyterian Church.
Under his leadership, the Wright State University Men's Chorale became a popular choral ensemble in the Miami Valley. They were selected to perform at OMEA professional conference, Central Division Convention of the American Choral Directors Association, and the National Seminar for Intercollegiate Men's Choruses. They have worked with guest conductors such as Charlene Archibeque, Simon Carrington, Jefferson Johnson, R. D. Mathey, Bradley Holmes, Pearl Shangkuan and James Gallagher, as well as composers David Conte and Moses Hogan. They have also hosted workshops with Ensemble Amarcord and Cantus.
Tipps also conducted Cappella, the select secondary school component of the Kettering Children's Choirs.  The group toured extensively, and in the summer of 2006 sang in Germany, Austria, and Italy, where they performed at the Salzburg Cathedral, St. Mark's Basilica in Venice, and St. Stephen's in Augsburg. In 2009 their tour to China included performances at Central Conservatory of Beijing, Xian Conservatory, and Children's Palace of Shanghai, and shared a concert with the Hong Kong Children's Choir. During the summer of 2012 they performed in French cathedrals at Chartres, Rheims, Bayeaux, Paris, and at the American Cemetery at Omaha Beach. In 2013 Cappella performed at the National Cathedral in Washington DC, and they toured South Africa in 2015, performing in Johannesburg, George, and Cape Town, as well as Ireland in 2018.  He is also a former conductor of the Dayton Boys Choir, and has performed in local and regional venues with that group, as well as a tour to Canada in 2002.
He holds degrees in music education from Tennessee Technological University, Georgia Southern University, and Florida State University. He studied conducting with André Thomas, Colleen Kirk, and Rodney Eichenberger, and was a Music Education student of Jack Taylor, Amy Brown, and Clifford Madsen. Tipps has also done advanced Music Education methodology studies at the British Kodaly Academy.
Jim and his wife Debbie reside in nearby Beavercreek. One of his greatest joys is being "Grandpa Monster" for Teddy, Nathan, Elena, Zachary, and Doshia.
Is this you?
Log in
to update your profile.