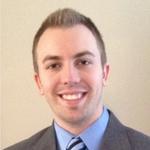 Jeffrey P Guina,
MD
Title:
Clinical Associate Professor, Psychiatry
Certification
American Board of Psychiatry and Neurology Diplomate, 2014
Education/Training
Psychiatry Residency, Wright State University, 2014
Doctor of Medicine, Wayne State University, 2010
Bachelor of Science (biochemistry), University of Detroit Mercy, 2006
Bachelor of Arts (history), University of Detroit Mercy, 2006
Military Service
Major, U.S. Air Force, Medical Corps., 2007-2017
Professional Society Memberships
American Psychiatric Association
American Academy of Psychiatry and the Law
Ohio Psychiatric Physicians Association
Dayton Psychiatric Society
Selected Honors/Awards
AFMC Physician Educator of the Year, 2015
Ohio Psychiatric Physicians Foundation Research Award, 2014
Journal of Psychiatric Practice Research Award, 2014
Teaching
Course Director/Curriculum Development
Clinical psychiatry research elective (MS4, PGY1-4), 2014-2017
Continuing medical education (PGY1), 2016-2017
Introduction to research (PGY2), 2016-2017
Introduction to research (PGY3), 2014-2016
Neurobiology II: psychobiology (PGY3), 2014-2017
Borderline personality disorder (PGY3), 2015-2017
Supportive psychotherapy (PGY1/3), 2014-2017
CAP Research (PGY3-5), 2016-2017
Teaching Activities
Legal issues in psychiatry II (PGY4), 2014-2017
Legal issues in psychiatry I (PGY1), 2014-2017
Advanced psychopharmacology (PGY3), 2014-2017
Consult and liason psychiatry (PGY2), 2014-2015
Trauma and recovery (PGY4), 2014-2017
Classic papers in psychiatry (PGY3), 2014-2015
Emergency psychiatry (PGY1), 2014-2015
Differential diagnosis and formulation (PGY3), 2014-2015
Advising/Mentoring
Outpatient clinical supervisor (PGY1-4, psychology, social work), 2014-2016
On-call/emergency clinical supervisor (PGY1-2, psychology, social work), 2014-2016
Forensic/occupational evaluation supervisor (PGY3-4, psychology, social work), 2014-2016
Psychotherapy supervisor (PGY2-4), 2014-2016
Research advisor (MS3-4, PGY3-4), 2014-2016
Educational Committees
Psychiatry residency applicant selection committee, 2012-2017
Psychiatry research strategic planning committee (Chair), 2015-2016
Psychiatry research education committee, 2015-2016
Psychiatry academic improvement team, 2015-2017
Psychiatry ACGME milestone clinical competency committee, 2014-2016
Psychiatry clinical skills evaluation/verification action plan (Co-leader), 2014-2015
Psychiatry didactics review committee, 2014
Psychiatry program evaluation committee, 2014
Psychiatry residency training committee, 2013-2014
Premier Health Partners psychiatry consultion & liaison workgroup, 2013-2014
Psychiatry psychotherapy training committee, 2012-2013
Research Statement
Academic Interests
Traumatic stress disorders
Addictive disorders
Personality disorders
Forensic psychiatry
Selected Presentations
Guina J. (Dec 2015). Psychopharmacology for non-prescribers: what you need to know. Dayton Area Psychological Association Workshop. Presentation conducted from Wright State University School of Professional Psychology, Dayton.
Guina J. (Nov 2015). Sex Differences in PTSD: DSM-5 Symptomatology and Suicide. Dayton Psychiatric Society Meeting. Presentation conducted from Dayton Psychiatric Society, Dayton.
Zeola MP, Guina J, Nahhas RW. (Oct 2015). Mental health referrals reduce recidivism in juvenile offenders… but how do we decide who gets referred? 46th Annual Meeting of the American Academy of Psychiatry and the Law. Presentation conducted from Marriott Resort, Ft. Lauderdale.
Guina J. (May 2015). Posttraumatic stress disorder and substance use disorders. Dayton Police Department Crisis Intervention Team Training. Presentation conducted from ADAMHS Board of Montgomery County, Dayton.
Selected Publications
Zeola MP, Guina J, Nahhas RW. (2016). Mental Health Referrals Reduce Recidivism in First-Time Juvenile Offenders, but How Do We Determine Who is Referred? Psychiatric Quarterly, May, 1-19.
Guina J, Welton RS, Broderick PJ, Correll TL, Peirson RP. (2016). DSM-5 Criteria and its Implications for Diagnosing PTSD in Military Service Members and Veterans. Current Psychiatry Reports, 18(5), 1-9.
Guina J, Rossetter SR, DeRhodes BJ, Nahhas RW, Welton RS. (2015). Benzodiazepines for PTSD: A Systematic Review and Meta-Analysis. Journal of Psychiatric Practice, 21(3), 281-303.
Guina J, Kay J. (2012). Ethical Issues and the Delivery of Mental Health Services to College Students. Harvard Health Policy Review, 13, 7-10.
Is this you?
Log in
to update your profile.