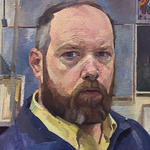 Jeremy Jay Long,
M.F.A.
Department:
School of Fine and Performing Arts
Title:
Associate Professor
Address:
Creative Arts Ctr 127, 3640 Colonel Glenn Hwy, Dayton, OH 45435-0001
Associate Professor of Art and Art History
Jeremy Long, is an Associate Professor in Painting and Drawing. He received his BFA from The Kansas City Art Institute and his MFA from The American University in Washington D.C. He has exhibited widely throughout the United States, most recently at Hoffman LaChance Contempory in St. Louis MO ,The Bowery Gallery in N.Y.C., Linda Warren Gallery in Chicago Il, and the Swope Museum of American Art in Terre Haute, IN. Since 2007 he has been an active member in the painting collective Midwest Paint Group.
B.F.A., 1995, The Kansas City Art Institute
M.F.A., 2001, The American University
Areas of Specialization
Painting
Drawing
Is this you?
Log in
to update your profile.