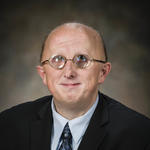 Jerry Hensley, Jr.,
M.IS., M.Ed.
Department:
Computing & Telecommunications
Title:
Web Accessibility Coordinator and System Administrator
Address:
Library Annex 130C, 3640 Colonel Glenn Hwy, Dayton, OH 45435-0001
Jerry A. Hensley Jr. is currently working as an Application Systems Administrator at Wright State University where he also serves as an adjunct faculty member in the College of Computer Science and Engineering.  Jerry has both a bachelor's degree in Human Services ('95) and Master's in Information Systems ('15) from Wright State University and  is presently pursuing a master's degree in education focused on instructional design and distance learning.
Mr. Hensley is active in the community and has served on the Greater Dayton RTA board of trustees in addition to many other committees and advisory councils.  Jerry has an extensive background in the area of assistive technologies and providing services to persons with disabilities.  Jerry has presented both regionally and nationally on a wide variety of technology related topics.  He is a contributing author to publications regarding universal design and integration / implementation of hardware and software.
Is this you?
Log in
to update your profile.