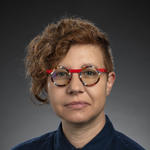 Jessica Penwell Barnett,
Ph.D.
Department:
Sch of Social Sci's & Int'l Studies
Title:
Associate Professor, Sexuality and Gender Studies
Address:
Millett Hall 261, 3640 Colonel Glenn Hwy, Dayton, OH 45435-0001
Jessica Barnett is an Associate Professor of Sociology, holding a special appointment in Sexuality & Gender Studies.  Jessica earned her Ph.D. and M.A. in Sociology at the University of Windsor in Canada and her Bachelor of Arts degree in Psychology at Indiana University.  With an interdisciplinary focus on sexuality, health, and social justice, Jessica's work is motivated by how different understandings of humanity and the common good are articulated in and through the regulation of the body and intimate practices.  Her research has explored sexual citizenship and autism in the U.S., as well as experiences of gender-based violence and related stigma in Kenya.
Education History
2014   University of Windsor             Ph.D.   Sociology, Specialization in Social Justice
2009   University of Windsor            M.A.     Sociology, Specialization in Sex & Gender
2003   Indiana University                  B.A.      Psychology
Teaching
Introduction to Sexual Health & Diversity (WGS 1000)
Introduction to Sociology (SOC 2000)
Introduction to Women & Gender Studies (WGS 2000)
Social Problems (SOC 2200)
Critical Sexuality Studies (WGS 3000)
Sociological Theory (SOC 3500)
Research Methods in Liberal Arts (WGS 3700)
Sex Education Practicum (WGS 4000)
Disability: Politics, Power, Privilege (SOC 4670/6670)
Global Sexualities & Human Rights (SOC 4650/6650)
Feminist Research Methods (SOC 4090/6090; WGS 4700/6700)
Theories of Sexuality (WGS 4500/6500; SOC 4091/6091)
Research Methods I (ABS 7100)
Service
Secretary, Wright State Chapter of American Association of University Professors 2021-
Director, Women, Gender & Sexuality Studies Program 2017-2018
Coordinator, Women, Gender & Sexuality Studies Program 2018-2019
Co-Chair, Disability Division, Society for the Scientific Study of Social Problems 2016-2018
Publications
Maticka-Tyndale, Eleanor, Jessica Penwell Barnett, and Trocaire, Kenya. 2019. "Exploring the Relationship Between Stigma, Stigma Challenges, and Disclosure Among Slum-Dwelling Survivors of Intimate Partner Violence in Kenya." Violence Against Women. doi:10.1177/1077801219856101. 
Barnett, Jessica Penwell. 2017. "Intersectional Harassment and Deviant Embodiment Among Autistic Adults: (Dis)Ability, Gender, Sexuality." Culture, Health, & Sexuality 19(11):1210-1224. doi:10.1080/13691058.2017.1309070. 
http://www.tandfonline.com/eprint/ICTVZ7jd4bhzCPZNd3HF/full 
Barnett, Jessica Penwell, Eleanor Maticka-Tyndale, and Trocaire, Kenya. 2016. "Stigma as Social Control: Gender Based Violence Stigma, Life Chances, and Moral Order in Kenya." Social Problems 63:447-462. doi:10.1093/socpro/spw012.
http://socpro.oxfordjournals.org/cgi/reprint/spw012?ijkey=UwBJT3i9obflApD&keytype=ref
Barnett, Jessica Penwell, and Eleanor Maticka-Tyndale. 2015. "Qualitative Exploration of Sexual Experiences among Adults on the Autism Spectrum: Implications for Sexuality Education." Perspectives in Sexual and Reproductive Health 47(4):171-179.
Barnett, Jessica Penwell. 2014. "Polyamory and criminalization of plural 'conjugal unions' in Canada: Competing narratives in the s.293 Reference." Sexuality Research & Social Policy 11(1):63-75.
Barnett, Jessica Penwell, Eleanor Maticka-Tyndale, and the HP4RY Team. 2011. "The gift of agency: Sexual exchange scripts among Nigerian youth." The Journal of Sex Research 48(4):349-359.
Maticka-Tyndale, Eleanor and Jessica Penwell Barnett. 2010. "Peer led reproductive health interventions for youth: A review." Evaluation and Program Planning 33(2):98-112.
Awards/Recognition
2020 College of Liberal Arts Outstanding Teacher Award
2016-2017 Faculty Research, Scholarship and Creative Activity Grant, College of Liberal Arts, Wright State University
2016-2017 Inclusion Infusion Grant: Increasing Underrepresented Students' Participation in High Impact Educational Activities, Division of Multicultural Affairs and Community Engagement, Wright State University
Is this you?
Log in
to update your profile.