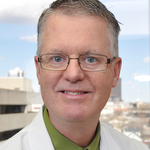 John G Hughes,
R. Ph., M.D., FACP
Title:
Assistant Professor, Internal Medicine Outpatient Clinic Director, Medical Surgical Health Center
Address:
Miami Valley Hospital, Medical Surgical Health Center, 725 S Ludlow St, Dayton, OH 45402-2610
Dr. John Hughes was born in Ohio.  He earned a BS in Pharmacy and a BA in Chemistry from Ohio Northern University in 1984.  He received his MD from the University of Cincinnati in 1988.  Dr. Hughes completed a residency in Internal Medicine from Miami Valley Hospital/Wright State University in 1991.  Dr. Hughes had several practice experiences before joining the Department of Internal Medicine in 2008,  Currently Dr. Hughes supervises the residents in their outpatient experience and serves as the Director of Education.
Dr. Hughes is married to Dr. Jennifer Hughes who is also on the faculty of Wright State University.  They have four children.  Dr. Hughes is very happy to be a part of the Wright State University team.
Is this you?
Log in
to update your profile.