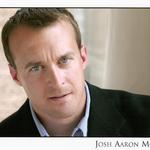 Josh A McCabe,
M.F.A.
Department:
School of Fine and Performing Arts
Title:
Associate Professor
Josh Aaron McCabe joined Wright State University in the Fall of 2016. He is an Associate Professor of Acting and serves as the Head of BFA Acting in the School of Fine and Performing Arts. Josh teaches various courses in Acting: specializing in both Shakespeare and accessing the actor's Availability to their Unique Voice in performance.
In 2020 Josh was awarded Wright State University's Presidential Award for Faculty Excellence: Early Career Achievement as well as The College of Liberal Arts' Early Career Award.
Josh has been a core member of the nationally acclaimed Shakespeare & Company in The Berkshires, MA since 2006. As an AEA actor, his many roles at Shakespeare & Company often involve a lot of physicality- either in quick change comedies (including the American Premiere of The Hound of the Baskervilles, The Complete Works of Shakespeare- Abridged, The Mystery of Irma Vep, The 39 Steps, The Real Inspector Hound) or stage fighting (Macbeth, Richard III, Cymbeline, Les Liaisons Dangereuses). Other memorable roles there include: playing opposite Olympia Dukakis as Eilif, in Mother Courage and Her Children, as well as Stephano and Alonso in The Tempest for the inaugural performance of Shakespeare & Company's new outdoor Roman Garden Theatre in 2017.
While at Shakespeare & Company, Josh was also a Senior Education Artist, serving as the Director of Shakespeare & Company's Shakespeare in the Courts Program (a Presidential award-winning Program previously celebrated at a White House ceremony in 2007). This project, in collaboration with the Berkshire Juvenile Court System, works with adjudicated teenagers who have been "Sentenced to Shakespeare" by a judge to rehearse and perform a Shakespeare play as a part of their probation.
Other acting performances at Regional Theatres include: Berkshire Theatre Festival, Oldcastle Theatre of Vermont, Connecticut Repertory Theatre, Forward Theatre, Milwaukee's Chamber Theatre, Renaissance Theatre of Milwaukee, Madison Repertory Theatre, Ensemble Theatre of Cincinnati and most recently The Human Race Theatre here in Dayton, Ohio.
Josh is a member of Actors' Equity Association and The Screen Actors Guild- American Federation of Television and Radio Artists. He received his M.F.A. in Acting from The University of Wisconsin-Madison, as well as two degrees (B.F.A. and B.A.) from Ohio University.
Is this you?
Log in
to update your profile.