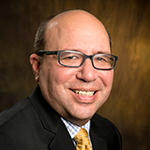 Julian J. Trevino,
M.D.
Title:
Professor & Chair of Dermatology; Chief of Dermatology, Dayton VA Medical Center Program Director, Dermatology Residency
Address:
Wright State Physicians Bldg, 725 University Blvd., Dayton, OH 45435-0001
Contact Dr. Trevino:
Patient appointments: (937) 245-7200
Dayton VAMC patients call: (937) 268-6511 x1417
Academic calls: (937) 245-7254
Certification
Internal Medicine (1990)
Dermatology (1994)
Pediatric Dermatology (2008)
Clinical Expertise
General Dermatology in Adult & Pediatric Patients
Immunodermatology
Acne and rosacea
Atopic dermatitis
Psoriasis
Skin cancer
Hospital Privileges
Kettering Medical Center (c)
Veterans Affairs Medical Center (a)
Key: (a) denotes active status; (c)denotes courtesy status
Education History
M.D.: Wright State University School of Medicine (1987)
Internship: Cleveland Clinic (1988)
Residency: Cleveland Clinic (1990); Wright State University Affiliated Hospitals (1994)
Professional Affiliations/Memberships
American Academy of Dermatology
Ohio Dermatologic Association
American Medical Association
Ohio State Medical Association
Montgomery County Medical Society
Society for Pediatric Dermatology
Association of Professors of Dermatology
Dermatology Foundation, Annenberg Circle
Is this you?
Log in
to update your profile.