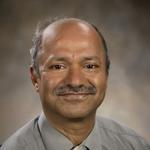 K.T. Arasu
Department:
Mathematics & Statistics
Title:
Professor and IASM Program Director
Address:
Math/Microbiology Bldg 234, 3640 Colonel Glenn Hwy., Dayton, OH 45435-0001
Professor. K. T. Arasu received his Master's degree in 1977 at Panjab University, India and Ph.D. in 1983 from Ohio State University. He has been at WSU since 1983. He also spent 2 years in Germany as a Humboldt fellow. His research interests lie in the general area of applicable algebra. He has published over 90 research articles and is on the editorial board of the international journal Designs, Codes and Cryptography. He has edited special issues for the journals: Discrete Mathematics, Journal of Statistical Planning and Inference and the Journal of Combinatorics, Information and System Sciences. He has also edited three books containing research articles on combinatorial designs and coding theory. His research has been and continues to be funded by NSA, NSF and AFOSR. His honors include the Teaching Excellence Award from the College of Science and Mathematics, the Presidential Research Excellence Award from WSU, and the Trustee's Award for Faculty Excellence. His hobbies include composing spiritual music and writing poems in Tamil, Hindi and English.
Is this you?
Log in
to update your profile.