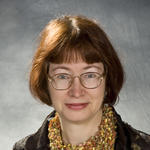 Karla T. Huebner,
Ph.D.
Title:
Professor, Art and Art History
Karla Huebner is a Professor of Art History, specializing in 1750-present with research interests that include Czech modernism, surrealism, and gender and sexuality. She received her MA from American University in Washington, DC and her PhD from the University of Pittsburgh. Dr. Huebner has received research grants and fellowships that include Fulbright-Hays DDRA and an Andrew Mellon Predoctoral fellowship. Also, in 2015 she participated in the National Endowment for the Humanities Summer Institute "Teachng the History of Modern Design." Dr. Huebner has presented conference papers in England, the Czech Republic, Hungary, Portugal, the Bahamas, and the United States, at such venues as the College Art Association, the Association of Art Historians (UK), the Association for Slavic, East European, and Eurasian Studies, the Berkshire Women's History Conference, the International Society for the Study of Surrealism, and the European Association for Urban History. In 2013 she was elected to the board of Historians of German, Scandinavian, and Central European Art (HGSCEA) and in 2019 she was elected President of the Czechoslovak Studies Association; she is also active in SHERA. Before coming to Wright State, she published on Minoan art in Anistoriton and reviewed books for Women Artists News, as well as publishing fiction in literary and genre magazines.
Teaching
Dr. Huebner teaches the history of European and American art 1750-present. She also teaches the introductory Art History survey, Women in Art, Approaches (a methodologies course), and has additionally taught ancient art (Bronze Age Aegean, Greek, and Roman). She emphasizes understanding art in its historical context, with attention to both canonical and marginalized artists.
Books
Magnetic Woman: Toyen and the Surrealist Erotic. University of Pittsburgh Press, 2020.
Forthcoming Publications
In Search of the Magic Theater. Regal House, 2022.
Recent Publications
"Czech Feminisms during the Inter-war Period," coauthored with Iveta Jusová, in The Routledge International Handbook to Gender in Central-Eastern Europe and Eurasia, edited by Katalin Fábián, Janet Elise Johnson, and Mara Lazda. 2021.
"American Material Feminists and Cooperative Living," in Hubert Guzik, ed., To Live Together: Collective Houses in Czechoslovakia and Europe in the 20th Century, Arbor Vitae/Museum of Modern Art, Olomouc, Czech Republic, 2018.
"The Czech 1930s Through Toyen." In Czech Feminisms: Perspectives on Gender in East Central Europe, edited by Iveta Jusova and Jiřina Šíklová, 60–76. Bloomington: Indiana University Press, 2016.
 "Inter-War Czech Women's Magazines: Constructing Gender, Consumer Culture and Identity in Central Europe," Women in Magazines: Research, Representation, Production, and Consumption, Sue Hawkins, Nicola Phillips, Rachel Ritchie, S. Jay Kleinberg, eds. Routledge, 2016, 66-80.
"Nostalgia and La Jetée," Contemporaneity: Historical Presence in Visual Culture 4, 2015, 95-107.
"Prague Flânerie from Neruda to Nezval," in The Flâneur Abroad: Historical and International Perspectives, Richard Wrigley, ed. Cambridge Scholars Publishing, 2014, 281-297.
"Otherness in First Republic Czechoslovak Representations of Women," in Dagnosław Demski, Ildikó Sz. Kristóf, and Kamila Baraniecka-Olszewska, eds, Competing Eyes: Visual Encounters with Alterity in Central and Eastern Europe, Budapest, 2013, 438-460.
 "In Pursuit of Toyen: Feminist Biography in an Art-Historical Context," Journal of Women's History 25, no. 1 (Spring 2013), 14-36.
 "Girl, Trampka, or Žába? The Czechoslovak New Woman," chapter in The New Woman International (edited by Elizabeth Otto and Vanessa Rocco, University of Michigan Press, 2011), 231-251.
 "Fire Smoulders in the Veins: Toyen's Queer Desire and its Roots in Prague Surrealism," Papers of Surrealism issue 8 (Spring 2010) (http://www.surrealismcentre.ac.uk/papersofsurrealism/journal8/index.htm)
 "The Whole World Revolves Around It: Sex Education and Sex Reform in First Republic Czech Print Media," Aspasia 4 (Spring 2010), 25-48.
Education
BA in Theatre Arts, University of California, Santa Cruz
MA, 2002, American University
PhD, 2008, University of Pittsburgh
 
Areas of Specialization
Modernism, Surrealism, gender and sexuality, Central and Eastern Europe, visual culture, periodical studies
Is this you?
Log in
to update your profile.