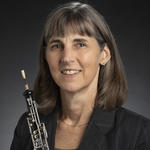 Katherine deGruchy,
M.M.
Title:
Adjunct Faculy and Support Staff
Address:
Creative Arts Center 085A, 3640 Colonel Glenn Hwy, Dayton, OH 45435-0001
Adjunct Instructor, Oboe and English horn
Faculty Woodwind Quintet, oboe
M083 Creative Arts Center
Katherine L. deGruchy
Katherine, a native of Dayton, Ohio, received her Bachelors and Masters in Music Performance from the Cleveland Institute of Music where she studied with the renowned oboist John Mack of the Cleveland Orchestra.  She lived in Mexico City for 17 years where she played oboe and English horn with the Mexico City Philharmonic and other orchestras.   Katherine performed the Mexican debuts of the Persichetti Concerto for English horn and the Honegger Concerto for English horn and Flute with the Mexico City Philharmonic. She also was a member of the award-winning octet Sinfonietta Ventus which recorded on the Urtext label and toured Mexico and the US including a concert in the Carnegie Hall recital hall in New York City.   She returned to the Dayton area in 2005 and has continued her performing career in the Middletown Symphony Orchestra, the Clermont Symphony, the Lebanon Symphony and subbing frequently with the Dayton Philharmonic Orchestra. Katherine has played Dayton performances of the Broadway shows "Wicked" and "Mary Poppins".  In 2006 she helped create the Burning River Winds with her husband John. The Burning River Winds were featured as guest artists at the 2012 and 2022 IDRS Annual Conference. In 2022 they premiered a trio for English horn, bassoon and piano written for them by Alyssa morris. They also have performed at the Dayton Art Institute, the Hayner Cultural Center and Hamilton Fairfield.  She also is an active member of the International Double Reed Society.  In addition to being the Adjunct Instructor, Applied Oboe at Wright State University, Katherine also teaches oboe to younger students in several local schools.  
Is this you?
Log in
to update your profile.