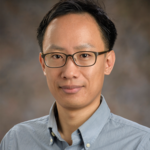 Kwang-Jin Cho,
Ph.D.
Department:
Biochemistry/Molecular Biology-COSM
Title:
Associate Professor, Biochemistry & Molecular Biology
Address:
Diggs Laboratory 065, 3640 Colonel Glenn Hwy, Dayton, OH 45435-0001
Research Statement
K-Ras Plasma membrane interactions: a tractable therapeutic target
The Ras GTPases comprising three main isoforms H-, N- and K-Ras operate at the plasma membrane as molecular switches in essential signaling pathways. Approximately 15% of all human carcinomas have activating point mutations in RASgenes. Oncogenic K-Ras mutants are found in 90 percent of pancreatic, 45 percent of colorectal and 35 percent of lung cancers. Despite significant efforts to directly target Ras activity, no anti-Ras drugs have been developed and taken into the clinic. Since Ras proteins must be anchored to the inner leaflet of the plasma membrane for full biological activity, inhibition of K-Ras plasma membrane interaction is a valid therapeutic approach to abrogate oncogenic K-Ras activity. My research investigates molecular mechanisms of K-Ras interaction with the plasma membrane, and discovery of compounds and proteins that regulate K-Ras plasma membrane interaction. Such compounds and/or proteins may be a starting point to develop novel anti-cancer therapies that specifically target K-Ras-driven cancers.
From a high content cell-based screen of chemical and human siRNA libraries, I identified both exogenous and endogenous regulators of the K-Ras plasma membrane interaction. Three classes of compounds and a set of proteins that induce K-Ras dissociation from the plasma membrane were identified. The mechanisms, which reduced K-Ras signaling were:
increased K-Ras phosphorylation by the AMPK/eNOS/PKG pathway, and
perturbation of cellular phosphatidylserine (PS) distribution.
Characterization of these novel mechanisms will provide new insight into K-Ras plasma membrane interactions, and form the basis of a novel approach to inhibit K-Ras plasma membrane interaction.
Students Advised
Current
Karen Henkels, Senior Research Associate
Kristen Rehl, Ph.D. student, started in 2019
Graduated
Sarah Kovar, Mater's. Graduated in 2018.
Christian Garrido, Mater's. Graduated in 2018.
Publications
1. Avicin G is a potent sphingomyelinase inhibitor and blocks oncogenic K- and H-Ras signaling.
    Garrido CM, Henkels KM, Rehl KM, Liang H, Zhou Y, Gutterman JU, Cho KJ. Sci. Rep. (2020). doi: 10.1038/s41598-020-65882-5.
2. Chalcones bearing a 3,4,5-trimethoxyphenyl motif are capable of selectively inhibiting oncogenic K-Ras signaling. 
    Kovar SE, Fourman C, Kinstedt C, Williams B, Morris C, Cho KJ, Ketcha DM. Bioorg. Med. Chem. Lett. (2020). doi: 10.1016/j.bmcl.2020.127144.
3. Lipidomic atlas of mammalian cell membranes reveals hierarchical variation induced by culture conditions, subcellular membranes, and cell lineages.
    Symons JL, Cho KJ, Chang JT, Du G, Waxham MN, Hancock JF, Levental I, Levental KR. Soft Matter. (2020). doi: 10.1039/d0sm00404a. 
4. Depletion of phosphatidylinositol 4-phosphate at the Golgi translocates K-Ras to mitochondria. 
    Miller TE, Henkels KM, Huddleston M, Salisbury R, Hussain SM, Sasaki AT, Cho KJ. J. Cell Sci. (2019). doi: 10.1242/jcs.231886.
5. Acylpeptide hydrolase is a novel regulator of KRas plasma membrane localization and function. 
    Tan L, Cho KJ, Kattan WE, Garrido CM, Zhou Y, Neupane P, Capon RJ, Hancock JF. J. Cell Sci. (2019). doi: 10.1242/jcs.232132.
6. Discovery of High-Affinity Noncovalent Allosteric KRAS Inhibitors That Disrupt Effector Binding. 
    McCarthy MJ, Pagba CV, Prakash P, Naji AK, van der Hoeven D, Liang H, Gupta AK, Zhou Y, Cho KJ, Hancock JF, Gorfe AA. ACS Omega. (2019). doi: 10.1021/acsomega.8b03308.  
7. HRAS-driven cancer cells are vulnerable to TRPML1 inhibition. 
    Jung J, Cho KJ, Naji AK, Clemons KN, Wong CO, Villanueva M, Gregory S, Karagas NE, Tan L, Liang H, Rousseau MA, Tomasevich KM, Sikora AG, Levental I, van der  Hoeven D, Zhou Y, Hancock JF, Venkatachalam K. EMBO Rep. (2019). doi: 10.15252/embr.201846685. 
8. An oxanthroquinone derivative that disrupts RAS plasma membrane localization inhibits cancer cell growth. 
   Tan L, Cho KJ, Neupane P, Capon RJ, Hancock JF. J Biol Chem. (2018) doi: 10.1074/jbc.RA118.003907.
9. Sphingomyelin Metabolism Is a Regulator of K-Ras Function. 
   van der Hoeven D, Cho KJ, Zhou Y, Ma X, Chen W, Naji A, Montufar-Solis D, Zuo Y, Kovar SE, Levental KR, Frost JA, van der Hoeven R, Hancock JF. Mol. Cell Biol. (2018). doi: 10.1128/MCB.00373-17. 
Is this you?
Log in
to update your profile.