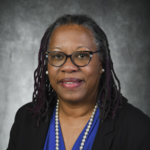 La Pearl Logan Winfrey,
Ph.D.
Department:
School of Professional Psychology
Title:
Dean and Professor
Address:
Health Sciences Bldg 117, 3640 Colonel Glenn Hwy., Dayton, OH 45435-0001
Areas of Interest
Psychology education and training, higher education administration, integrative approaches to psychotherapy, intersectionality and power dynamics, qualitative inquiry.
Is this you?
Log in
to update your profile.