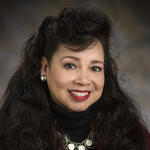 LaTrelle D. Jackson,
Ph.D., ABPP
Department:
School of Professional Psychology
Title:
Professor & Interim Dean
Address:
Ellis Human Devel Inst, 9 N Edwin C Moses Blvd, Dayton, OH 45402-8470
Areas of Interest
Community engagement, asset-based assessment, juvenile justice, diversity issues, consultation, supervision, parent empowerment, group therapy, geriatric psychology, program development, career cultivation, forensic psychology, student affairs issues, and higher education administration.
Is this you?
Log in
to update your profile.