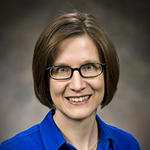 Leigh Ann Duncan
Department:
Library Technology Services
Title:
Head of Library Technology Services
Address:
P L Dunbar Library 120, 3640 Colonel Glenn Hwy., Dayton, OH 45435-0001
I manage the Library Technology Services department, which is responsible for the information technology needs of the University Libraries, including web development and application support. We collaborate with CaTS, OhioLINK, and our Affiliated Libraries. I facilitate the University Libraries' Web Advisory Team, which provides oversight, design, and maintenance for our web services.
Education History
Master of Arts
Wright State University, Dayton, Ohio
December 2009
Master of Library and Information Science
Kent State University, Kent, Ohio
August 1999
Bachelor of Science
Wright State University, Dayton, Ohio
June 1993
Is this you?
Log in
to update your profile.