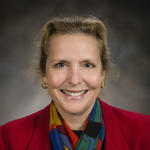 Lisa Righter,
MD
Department:
Family Medicine
Title:
Associate Professor, Family Medicine; Medical Director, Five Rivers Family Health Center
Address:
Five Rivers Family Health, 2261 Philadelphia Dr, Dayton, OH 45406-1814
Elisabeth L. Righter, M.D., F.A.A.F.P., is an Associate Professor in the Department of Family Medicine. She joined the faculty in October of 2011, after four years working at Fox Valley Family Medicine Residency in Appleton, Wisc., and 10 years working at Dayton Community Family Medicine Residency. Before entering graduate medical education, she practiced for five years. Her work experiences included urgent care, emergency room, occupational medicine and family medicine practices in Maui, Hawaii, and Cleveland. She is proud to have mentored residents in research projects. She was named Family Medicine Attending of the Year in 2002 at her residency. Dr. Righter served as president of the Ohio Academy of Family Physicians (OAFP) in 2005-06. She was named the 2008 OAFP Foundation Philanthropist of the Year. Dr. Righter was a member of the American Academy of Family Physicians (AAFP) Commission on Quality and Practice, including Chair (2011-15). She was president of Phi Rho Sigma Medical Society-International (2011-19). She is an OAFP Alternate Delegate to the AAFP Congress of Delegates (2015-20). Her clinical interests are pregnancy care, especially group prenatal care (Centering Pregnancy); along with procedures. Her research and teaching interests include quality improvement and cultural proficiency. She is the Medical Director at the residency ambulatory office; Five Rivers Family Health Center. Her Twitter handle is @drlisarighter.
Certification:
American Board of Family Medicine
Clinical Expertise:
Care of pregnant women and their families
Care of infants and children
Education History
M.D.: Wright State University School of Medicine
Residency (Family Medicine): Grant Medical Center
Fellowship (Faculty Development): University of North Carolina, Chapel Hill
Professional Affiliations/Memberships
Fellow of the American Academy of Family Physicians
Ohio Academy of Family Physicians
Phi Rho Sigma Medical Society
Is this you?
Log in
to update your profile.