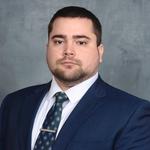 Patrick Ryan Lockhart
Student college:
Raj Soin College of Business
Student major:
Social + Applied Economics
Patrick Lockhart graduated from Wright State Univeristy with a Bachelor of Science in Economics in April 2022.  He is currently committed to the Master of Science in Social and Applied Economics program and will serve as a Graduate Assistant.  Patrick is from Greenville, OH and is an honorably discharged Marine Corps Veteran.  Following the completion of his master's degree, Patrick's professional and academic plans include working for the United States Air Force at Wright-Patterson AFB and seeking a Doctorate of Business Administration (DBA) degree.
Professional Affiliations/Memberships
Raj Soin College of Business Dean's Student Advisory Board
Economics Club, President
Phi Kappa Phi Honors Society
Beta Gamma Sigma Business School Honors Society
Omicron Delta Epsilon International Economics Honors Society
Awards/Recognition
Top Scholar for the Raj Soin College of Business, 2022
Outstanding Graduating Student in the Department of Economics, 2022
Outstanding Continuing Student in the Department of Economics, 2021
Undergraduate Latin Honors, Summa Cum Laude
Dean's List, Highest Honors
Is this you?
Log in
to update your profile.