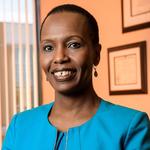 Wakiuru Wamwara,
Ph.D.
Address:
Rike Hall 207, 3640 Colonel Glenn Hwy., Dayton, OH 45435-0001
Wakiuru Wamwara is a Professor in the Marketing Department at the Raj Soin College of Business. She earned her PhD in Business Adminstration from th Fogelman College of Business and Economics at the University of Memphis. 
She earned her Masters in Business Administration from the Owen Graduate School of Management at Vanderbilt Univeristy where she had a double concentration in Management Information Systems and Marketing.  Dr. Wamwara earned her undergraduate degree from LeMoyne Owen College where she majored in computer science and minored in mathematics. 
Is this you?
Log in
to update your profile.