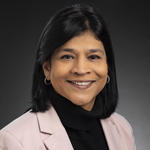 Madhavi Kadakia,
Ph.D
Department:
VP-Research & Innovation Admin
Title:
Vice Provost for Research and Innovation
Address:
University Hall 386A, 3640 Colonel Glenn Hwy., Dayton, OH 45435-0001
Education History
Ph.D.: University of Pittsburgh (1995)
Postdoctoral: Pittsburgh Cancer Institute (1995–1998)
The Cancer Institute of New Jersey (1998–1999)
Research Statement
Research statement: My laboratory is focused on deciphering the signaling pathways regulated by p63 and its role in cancer. p63 is a member of the p53 family member which plays a role in tumorigenesis, maintenance of epithelial stem cells and development. p63 has a complex genomic organization that results from alternate promoter usage and alternative splicing and is a homolog of the tumor suppressor protein p53. Unlike the p53 knockout mice which exhibit a high incidence of spontaneous tumors, the p63 knockout mice displays severe developmental abnormalities including limb truncations and craniofacial abnormalities. p63 mutations are also observed in various human developmental syndromes.
Our laboratory studies the signaling pathways regulated by p63 to better understand the role of p63 in cancer. We demonstrated that ΔNp63α, the most abundant and physiologically relevant p63 isoform, negatively regulates the PTEN tumor suppressor which is frequently dysregulated in cancer. We also showed that vitamin D receptor (VDR) is regulated by both p63 and p73, another member of the p53 family.
Current laboratory projects:
Recently, we showed that ΔNp63α suppresses cell invasion by downregulating PKC gamma / Rac1 signaling in colorectal adenocarcinoma cell lines, a finding with clinical relevance to cervical, lung and head and neck squamous cell carcinomas (SCC). Additional mechanistic studies into the regulation of Rac1 signaling by ΔNp63α are underway.
We have shown that the acetyltransferase TIP60 regulates cell proliferation via direct acetylation of ΔNp63α and are currently examining the contribution of the TIP60/ΔNp63α axis to the development of cisplatin resistance in SCC.
My laboratory has been using next generation sequencing to examine the differential expression of microRNAs in tissue and plasma samples of patients with Barrett's esophagus (BE) and Esophageal adenocarcinoma (EAC) to identify circulating microRNA biomarkers for early detection of EAC.
We are currently also profiling muscle and circulating miRNA altered in response to exercise as part of a multidisciplinary university research initiative (MURI) funded by the Office of Naval Research and performed in collaboration with the University of Alabama Birmingham and the Salk Institute.
Kadakia Lab 2015
Publications
Alshammari ES, Aljagthmi AA, Stacy AJ, Bottomley M, Shamma HN, Kadakia MP, Long W. 2021. ERK3 is transcriptionally upregulated by ∆Np63α and mediates the role of ∆Np63α in suppressing cell migration in non-melanoma skin cancers. BMC Cancer. 2021 Feb 12;21(1):155. doi: 10.1186/s12885-021-07866-w.PMID: 33579235
Craig MP, Rajakaruna S, Paliy O, Sajjad M, Madhavan S, Reddy N, Zhang J, Bottomley M, Agrawal S and Kadakia MP. 2019. Differential MicroRNA Signatures in the Pathogenesis of Barrett's Esophagus. Clin Transl Gastroenterol 2020 Jan;11(1): e00125. doi: 10.14309/ctg.0000000000000125
Stacy AJ, Zhang J, Craig MP, Hira A, Dole N, Kadakia MP. TIP60 upregulates ΔNp63α to promote cellular proliferation. 2019. J Biol Chem. Oct 10. Nov 8;294(45):17007-17016.
Aljagthmi AA, Hill NT, Cooke M, Kazanietz MG, Abba MC, Long W, Kadakia MP. ΔNp63α suppresses cells invasion by downregulating PKCγ/Rac1 signaling through miR-320a. 2019. Cell Death Dis. Sep 12;10(9):680.
Kim S, Xing L, Islam AE, Hisao M, Ngo Y, Pavlyuk OM, Martineau RL, Hampton CM, Crasto C, Slocik J, Kadakia MP, Hagen JA, Kelley-Loughnane N, Naik RR, Drummy LF. In Operando Observation of Neuropeptide Capture and Release on Graphene Field-Effect Transistor Biosensors with Picomolar Sensitivity. ACS Appl Mater Interfaces. 2019;11(15):13927–13934.
Sakaram S, Craig MP, Hill NT, Aljagthmi A, Garrido C, Paliy O, Bottomley M, Raymer M, Kadakia MP. Identification of novel ΔNp63α-regulated miRNAs using an optimized small RNA-Seq analysis pipeline. Sci Rep. 2018 Jul 3;8(1):10069.
Clark RJ, Craig MP, Agrawal S, Kadakia MP. microRNA involvement in the onset and progression of Barrett's esophagus: a systematic review. Oncotarget 2018 Jan 11;9(8):8179-8196.
Stacy AJ, Craig MP, Sakaram S, Kadakia MP. ΔNp63α and microRNAs: Leveraging the epithelial-mesenchymal transition. 2016. Oncotarget Jan 10; 8(2), 2114-2129.
Lee M, Ebert JR, Kadakia MP, Zhang J. Czerwinski SA. Inverse associations between cardiometabolic risk factors and 25-hydroxyvitamin D in obese American children and adolescents. 2016. Am. J. Hum Bio. 10;28(5):736-42.
Grogg MW, Braydich-Stolle LK, Maurer-Gardner EI, Natasha T. Hill NT, Sakaram S, Kadakia MP, Hussain SM. Modulation of miRNA-155 alters manganese nanoparticle-induced inflammatory response. 2016. Toxicol Research, 5, 1733-1743.
Hill NT, Zhang J. Leonard MK, Lee M, Shamma HN, Kadakia MP. 1a- 25 Dihydroxyvitamin D3 and the vitamin D receptor regulates DNp63a levels and cell proliferation. 2015. Cell Death Dis 6:e1781. doi: 10.1038/cddis.
Hill NT, Gracia-Maldonado GH, Leonard MK, Harper AR, Tober KL, Oberyszyn TM, Kadakia MP. Role of Vitamin D3 in Modulation of DNp63a Expression during UVB induced Tumor Formation in SKH-1 mice. 2014. PLoS One. 9(9):e107052.
Lehman JA, Hauck, PM, Gendron JM, Batuello CN, Eitel JA, Albig A, Kadakia MP, Mayo LD. Serdemetan Antagonizes the Mdm2-HIF1a Axis Leading to Decreased Levels of Glycolytic Enzymes. 2013. PLOS One. 8(9): e74741.
Leonard MK, Hill NT, Bubulya PA, Kadakia MP. The PTEN-AKt pathway impacts the integrity and composition of mitotic centrosomes. 2013. Cell Cycle. 12(9): 1406-15.
Leonard MK, Hill NT, Grant ED, Kadakia MP. ΔNp63α represses nuclear translocation of PTEN by inhibition of Nedd4-1 in keratinocytes. 2013. Arch Dermatol Res. Apr 16 (Epub ahead of print).
Singh AP, Arora S, Bhardwaj A, Srivastava SK, Kadakia MP, Wang B, Grizzle WE, Owen LB, Singh S. CXCL12/CXCR4 Protein Signaling Axis Induces Sonic Hedgehog Expression in Pancreatic Cancer Cells via Extracellular Regulated Kinase- and Akt Kinase-mediated Activation of Nuclear Factor κB: Implications for Bidirectional Tumor-Stromal Interactions. 2012. J. Biol. Chem. 287: 39115-24.
Chen J, Yang J, Chen S, Jameson J, Swope VB, Cheng T, Kadakia MP , Abdel-Malek Z, Kadekaro AL.a-Melanocyte Stimulating Hormone Suppresses Oxidative Stress Through a p53-Mediated Signaling Pathway in Human Melanocytes. 2012. Mol. Can. Res. 10: 778-786.
Kadakia MP, de-Fromentol CC, and Sabapathy K. The 5th International p63/p73 workshop: much more than just tumor suppression. 2012. Cell Death Differ 19(3): 549-50.
Leonard MK, Kommagani R, Payal V, Mayo LD, Shamma HN and Kadakia MP. ΔNp63α regulates keratinocyte proliferation by controlling PTEN expression and localization. 2011. Cell Death Differ 18(12):1924-33.
Vaiana CA, Leonard MK, Drummy LF, Singh KM, Bubulya A, Vaia RA, Naik RR, Kadakia MP. Epidermal Growth Factor-Layered Silicate Nanocomposites for Tissue Regeneration. 2011. Biomacromolecules.12(9):3139-46
Lehman JA, Waning DL, Batuello CN, Cipriano R, Kadakia MP, Mayo LD. Induction of apoptotic genes by a p73-PTEN complex in response to genotoxic stress. 2011. J Bio. Chem. 286(42):36631-40
Mieszawska AJ, Llamas JG, Vaiana CA, Kadakia MP, Naik RR, Kaplan DL. Clay enriched silk biomaterials for bone formation. 2011. Acta Biomater. Apr 22. 7(8): 3036-41.
Sharma A, Markey M, Torres-Munoz K, Shah-Varia S, Kadakia MP, Bubulya A, Bubulya PA. Son Maintains Accurate Splicing for a Subset of Human Pre-mRNAs. 2011. J. Cell Sci. 124 (24):4286-98.
Basu S and Kadakia MP. The 4th International p63/p73 workshop: p53's (older) sisters take center stage. 2010. Cell Death Differ.17(3): 562-564.
Kommagani R, Whitlatch A. Leonard MK, Kadakia MP. p73 is essential for vitamin D mediated osteoblastic differentiation. 2010. Cell Death Differ. 17(3): 398-407.
Kommagani R, Leonard MK, Lewis S. Romano RA, Sinha S, Kadakia MP. Regulation of VDR by ΔNp63α is associated with inhibition of cell invasion. 2009. J cell Sci. 122(16): 2828-35.
Khokhar, SK., Kommagani, R., & Kadakia, MP. Differential effects of p63 mutants on transactivation of p53 and/or p63 responsive genes. 2008. Cell Res. 18(10):1061-73.
Kommagani, R., Payal, V., & Kadakia, MP. Differential regulation of Vitamin D Receptor by the p53 family: p73 Dependent Induction of VDR upon DNA Damage.2007. J. Biol. Chem. 282 (41), 29847-29854.
Paull, DE, Kelley, K, Moezzi, J, Kadakia, MP, & Berberich, SJ. Gene Expression Profiles from Needle Biopsies of Non-Small Cell Lung Carcinomas Provide Useful Signatures of the Primary Tumor. 2007.Biomarker Insights 2:253-259.
Gupta MK, Khokhar SK, Phillips DM, Sowards LA, Drummy LF, Kadakia MP, & Naik RR. Patterned Silk Films Cast from Ionic Liquid Solubilized Fibroin as Scaffolds for Cell Growth 2007. Langmuir 23:1315-9.
Caserta TM, Kommagani R., Yuan Z., Robbins DJ, Mercer CA, & Kadakia MP. p63Overexpression induces the expression of Sonic Hedgehog. 2006, Mol. Can. Res. 4:759-68.
Heminger K., Jain V., Kadakia MP, Dwarakanath B., & Berberich SJ. Altered Gene Expression Induced by Ionizing Radiation and Glycol tic Inhibitor 2-Deoxy-Glucose in a Human Glioma Cell Line: Implications for Radio Sensitization.2006. Cancer Biol Ther.5:815-23.
Kommagani R., Caserta TM, Kadakia MP. Identification of vitamin D receptor as a target of p63. 2006. Oncogene25:3745-51.
Rozenzhak SM, Kadakia MP, Caserta TM, Westbrook TR, Stone MO, & Naik RR. Cellular internalization and targeting of semiconductor quantum dots.2005. Chem Commun. 7:2217-9.
Kadakia MP, Brown TL, McGorry M, & Berberich SJ. MdmX inhibits Smad transactivation. 2002. Oncogene21:8776-85.
Kadakia MP, Slader C, & Berberich SJ. Regulation of p63 function of Mdm2 and MdmX. 2000. DNA Cell Biol.20(6):321-330
Goydos J & Kadakia MP. The Clinical Relevance of the Fas-FasL Interaction. 1999. Cancer Therapeutics.2:107-112.
Goydos J, Kadakia MP, Tirabassi MV, Perez D, & White E. Rendering Cells Resistant to Fas Ligand-Induced Apoptosis. 1999. Surgical Forum.50: 341-342
Goydos J, Kadakia MP, Tirabassi MV, Doshi M, Perez D, & White E. Rendering Immune Effector Cells Resistant to Fas Ligand-Induced Apoptosis. 1999. J. Surg. Res. 86:275
Kadakia MP. Human Herpesvirus 6 Infection and Associated Pathogenesis Following Bone Marrow Transplantation. 1998. Leukemia and Lymphoma 31: 251-266.
Kadakia MP, Rybka WB, Stewart JA, Patton JL, Stamey FR, Elsawy M, Pellett PE, & Armstrong JA. Human Herpesvirus 6: Infection and Disease Following Autologous and Allogeneic Bone Marrow Transplantation. 1996. Blood 87: 5341-5354.
Awards/Recognition
2010 Faculty Mentor Award
Boonshoft School of Medicine, Wright State University
2011 Visiting Research Scholar Fellowship
Nottingham Trent University, United Kingdom
2011 Visiting scientist
Medical Research Council, Leicester, United Kingdom
2011 Organizing committee member
5th International p63/p73 workshop, Lyon, France 2011
2013 Organizing committee member
6th International p63/p73 workshop, Chiba, Japan 2013
2019 Fellow, Hedwig van Ameringen Executive Leadership in Academic Medicine (ELAM)
Active Research Grant Awards
Office of Naval Research-Multi University Research Investigation (MURI)                        9/1/2016-8/31/21
Precision High Intensity Training through Epigenetics
The goal of this study is to create a mechanistic model of the epigenetic response to exercise that forecasts peak performance using miRNA as biomarkers.
Role: Co-Investigator
REACT Laboratory Methods/Specimen Processing Scholar Award                               7/1/2020-6/30/2021
Funded as subaward to P2CHD086851 (NIH National Rehabilitation Research Resource to Enhance Clinical Trials, REACT) through the University of Alabama Birmingham (UAB)
The goal of the study is to profile circulating miRNA from serum exosomes to identify biomarker readouts of medical rehabilitation in Parkinson's Disease, end-stage osteoarthritis, and in individuals with muscle atrophy and neuromuscular function deficits.
Completed Research Support
RO1 CA154715                                                                06/04/2012–03/31/2018
Role of ΔNp63α in Vitamin D Mediated Cell Survival in Skin Cancer                                                                   
The goal of this study was to assess the effect of Vitamin D in promoting cell survival or apoptosis with the assistance of ΔNp63α and VDR. This study provided critical insights into the use of Vitamin D in cancer therapy and provided clues to the development and progression of skin cancer.
Role: PI
Veterans Affair Hospital, Wright State University                                                      08/01/2013 - 12/31/2017
Circulating microRNAs as biomarkers for early detection of esophageal adenocarcinoma in patients with Barrett's esophagus
The goal of this study was to identify microRNA biomarkers to noninvasively monitor the progression of Barrett's esophagus to esophageal adenocarcinoma and to aid in early detection.
Role: PI
Is this you?
Log in
to update your profile.
Attachments